Dilgo Khyentse Yangsi Rinpoche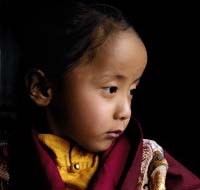 Dilgo Khyentse Yangsi Rinpoche is the incarnation of Dilgo Khyentse Rinpoche who passed away in 1991 at the age of 81.
Khyentse Yangsi Rinpoche was born in Nepal on June 30,1993. When Khyentse Rinpoche passed away, his close students requested Trulshik Rinpoche, his most senior and accomplished disciple, to find his incarnation. He had numerous dreams and visions that clearly indicated the identity of the incarnation. He was the son of Tsikey Chogling Rinpoche Mingyur Dewai Dorje, the third embodiment of Chogyur Dechen Lingpa, (himself the son of Tulku Ugyen Rinpoche), and Dechen Paldron.
His Holiness the Dalai Lama confirmed that this child was the tulku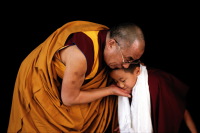 or reincarnation of Dilgo Khyentse Rinpoche. In December 1995, Trulshik Rinpoche performed the ceremony of offering a name (Ugyen Tenzin Jigme Lhundrup), and robes to the young tulku. His actual enthronement took place at Shechen Tennyi Dargyeling Monastery in Nepal in December 1996 and was attended by thousands of students from all over the world.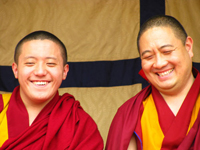 Khyentse Yangsi Rinpoche was educated in the quiet of Bhutan under the guidance of Rabjam Rinpoche. He is studying a complete Shedra (nine-year philosophical college course) in Bhutan  tutored by Khenpo Yeshe Gyaltsen.
He is also receiving the teachings and empowerments that his predecessor held. Every year he travels to Nepal for the Tibetan New Year partake in the annual ceremonies at Shechen Monastery. In Bhutan he also officiates in a number of drupchens (10-day ceremonies) as did his predecessor. He is a very compassionate and kind young teacher who has a deep commitment and sense of caring for the future of Buddhism. He speaks perfect English and is the acting abbot of the monasteries and nunnery while Rabjam Rinpoche is in extended retreat.