Khenpo Yeshe Gyaltsen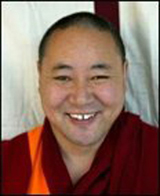 Khenpo Yeshe Gyaltsen was born in 1962 in Riwoche, eastern Tibet. He was ordained at the age of fourteen and studied Tibetan medicine, grammar, and composition at his local monastery. During this time he also received many teachings and did short retreats. Once he completed his studies of Tibetan medicine, he worked at the local medical clinic.
In 1986 he escaped from Tibet by foot to Nepal in order to study with Dilgo Khyentse Rinpoche. He joined the first class of the Shechen Shedra (Philosophical College) and studied there continuously for nine years, and was awarded the title of Lopon. He taught at the College and, in 2000, Rabjam Rinpoche appointed him to the position of principle tutor to Yangsi Rinpoche, the young incarnation of Dilgo Khyentse Rinpoche.
In 2003, Trulshik Rinpoche presided over his enthronement as Khenpo, marking the end of his formal studies. He is the principle teacher for Yangsi Rinpoche's nine-year college studies which are given in Bhutan at a small private shedra.