Female practitioners and nuns have always played an important role in Tibet, and there have been many enlightened female teachers. Since the Tibetan diaspora, very few nunneries have been built outside of Tibet.
Nestled in the rugged hills south of Thimphu, the capital of Bhutan, in a secluded area known as Sissinang, Shechen Orgyen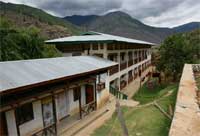 Chodzong Nunnery is one of the few facilities in Bhutan where women can study and practice. This small nunnery was the first monastic center founded by Dilgo Khyentse Rinpoche after he left Tibet. He gave numerous important teachings there and its beautiful temple frescoes are painted according to his instructions.
At present 125 nuns, mainly Bhutanese and ranging in age from 15 to 70 years old, live, meditate, and study at the nunnery under the guidance of Dilgo Khyentse Yangsi Rinpoche and Shechen Rabjam Rinpoche.
The nunnery offers women the rare opportunity to study and train in the lineage of Dilgo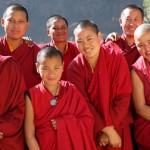 Khyentse Rinpoche. It provides for the nuns' complete education in addition to covering all expenses for their food, medical care, shelter, and clothing. Eleven of the nuns have taken Bhiksuni ordination and were the first group of nuns from the Nyingma tradition of Tibetan Buddhism to receive this full ordination.
In 1998, Shechen Rabjam Rinpoche and Khandro Lhamo, (1913-2003) the wife of Dilgo Khyentse Rinpoche, expanded the nunnery's facilities to include a modern kitchen and dining room, a library, additional living quarters for the nuns and resident teachers, a wing for elderly nuns, a stupa, and a new temple with murals of Dilgo Khyentse Rinpoche's terma cycle.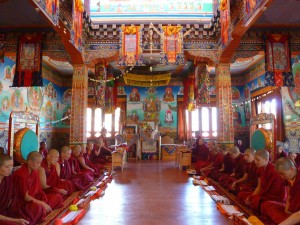 Graduates from Shechen Philosophical College teach extensive courses of meditation and study, including reading and writing for the younger girls, and a nine-year shedra (college)  course. There are over 36 women in the college. This training equips the nuns to eventually return to their communities to teach and create further opportunities for women and to also teach at the nunnery. Four nuns have learned solar engineering in the Barefoot College in India and have installed solar electric systems in Shechen's Nepal retreat center and in surrounding villages.
Nine nuns are engaged in the third strict three-year retreat at the nunnery's retreat center. Their meditation practice is the termas (rediscovered teachings) of Dilgo Khyentse Rinpoche. A volunteer English teacher helps with studies in the English language and writing.
The flourishing of Shechen Orgyen Chodzong as a place for education for women is a revolutionary step in the establishment of equality for women practitioners in the East.
Our sponsorship program directly supports the nuns in their education and practice. Your help is needed to give women of all ages an opportunity to study and teach and keep alive the wisdom tradition of Tibet for the next generations.