Shechen Retreat Center, Nepal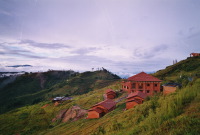 The retreat center of Shechen Monastery, called Drupde Pema Odseling, is located a few miles from one of the oldest known pilgrimage places in the world, Namo Buddha (in Kavre district, about 40kms from the heart of Kathmandu, to the south-east of the valley).
This beautiful, peaceful place is of great significance to Buddhist pilgrims, as it is where the thought of Bodhicitta first arose in the mind of the Buddha Shakyamuni in one of his previous lives. It is at this place that the young boy was so moved by compassion at the sight of the suffering of a starving Tigress and the four cubs she was trying to suckle, that he offered her his own body to eat.
It is said that the landscape below resembles an eight-petaled lotus, and the sky above has the form of a wheel with nine spokes.
The retreat center is in a perfect location – a secluded and peaceful hilltop a little higher than the pilgrimage site, with views of the Himalayas. The houses are built in the Nepali architectural style. On one side of the land there is a cloister and temple for a small group of monks who are in the traditional three-year retreat.
As one group of monks complete the retreat, another is ready to begin. They receive extensive teachings before and during the retreat from Khyentse Yangsi Rinpoche, Rabjam Rinpoche, and other teachers. Seven Shechen monks are currently in the fourth three-year retreat. Some are graduates of the Shechen Philosophical College (Shedra), many grew up at the monastery. Recently the positive effects of long-term meditation practices and mind training have been studied by neuro-scientists. Some of the monks who have completed the retreats are participating in these studies. Some monks who have completed the retreats are now teaching at monasteries, colleges, and centers, others have continued their retreats at other facilities.
Dotted around the land are small hermitages for elderly practitioners and yogis who are part of the Shechen community. The center provides an opportunity for the teachings of Dilgo Khyentse Rinpoche to be practiced in-depth.
Retreat facilities are not available for visitors.