Shechen Monastery, Tibet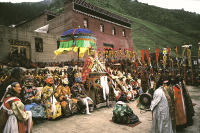 Shechen Monastery in eastern Tibet was the heart of a network of nearly a hundred and sixty monasteries. It was founded in 1695 by Rabjam Tenpai Gyaltsen who had been sent by the Fifth Dalai Lama to Kham with the mission to found a Nyingma monastery.
Shechen rapidly became one of the six principal monasteries of the Nyingma, or "ancient" tradition. It was renowned for the pure spirituality of its teachers and hermits, for the quality of the teaching at its philosophical college, and for the authenticity of its sacred arts (ritual, chants, music and dance). Many great masters originated from Shechen Monastery including Shechen Gyalstab, Shechen Kongtrul, Khempo Gangsar, and the sage Mipham Rinpoche. Dilgo Khyentse Rinpoche, Chogyam Trungpa and many other important 20th century teachers took teachings at the Monastery.
Following the Chinese communist invasion of Tibet in 1957, the monastery and its 110 branch monasteries were all razed to the ground. In 1985 when Dilgo Khyentse Rinpoche returned to Tibet after more than twenty-five years in exile, he found nothing but ruins. Thanks to his inspiration and to the unchangeable strength of mind of the Tibetan people the monastery is now rebuilt and, despite the difficult situation in Tibet, its activities have partially been resumed. About thirty of its affiliated monasteries have been rebuilt, but an enormous amount still needs to be done.
The shedra (philosophical college) was reconstructed and is operating with full enrollment and a waiting list of candidates from surrounding monasteries. The rebuilt three-year retreat center needs to be expanded so that more people can participate.
Funds are needed to complete and improve the buildings in the monastery complex. The main temple complex is currently under construction. Your donations will make this possible.