Shechen Monastery in Bodhgaya, India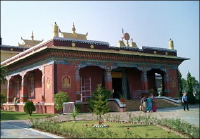 Bodhgaya, India is the center of the Buddhist world. It was there, under the Bodhi Tree, that Prince Siddhartha became enlightened. People from all over the world come to Bodhgaya on pilgrimage and nearly every Buddhist country has built a temple there.
Dilgo Khyentse Rinpoche had planned to build a Nyingma monastery in Bodhgaya. Accordingly, in 1996 Rabjam Rinpoche with the participation of dedicated volunteers and donors built Shechen Monastery.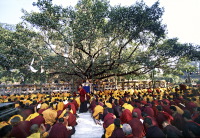 The monastery complex is located a few minutes walk from the Great Stupa. The main building houses a temple with frescoes on the life of the Buddha painted by teachers and students from the Tsering Arts School. Another building provides residence quarters for about 50 monks. The monks study and perform rituals and prayers and annually attend the Nyingma Monlam in Bodhgaya. The institute's quarters are available for group rental.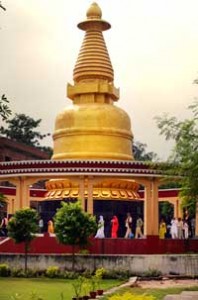 The beautiful Memorial Stupa for Dilgo Khyentse Rinpoche is located on the grounds of the monastery.