Tibetan Texts
Tragically, in the late 1950's more than six thousand monasteries and libraries were completely destroyed in Tibet during the Chinese Cultural Revolution. Nevertheless, many of the texts survived, and were preserved and carried out of Tibet by refugees, even if only one or very few copies.
In exile, Dilgo Khyentse Rinpoche worked tirelessly to teach, preserve, and republish all the major texts on philosophy and meditation. Shechen Publications now has republished over three hundred volumes of texts, some of which were from the one remaining copy.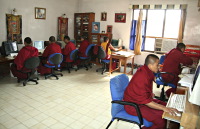 More than 12,000 Tibetan texts have been printed and put at the disposition of monasteries, universities and study centers. Numerous copies have been sent to Tibet where they hopefully will constitute one of the main elements in a greatly hoped for renaissance.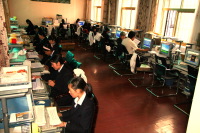 Since 1989 a team of monks at Shechen Monastery in Nepal, working under the inspiration of Shechen Rabjam Rinpoche and Matthieu Ricard, has been digitally inputting the major texts of the Nyingma tradition. The texts are entered using a Tibetan font and can be printed out in the form of traditional folios.
The first and foremost work of this team was to decipher, edit, input and check Khyentse Rinpoche's own writings that filled 25 volumes. This major task was completed a number of years ago and is for sale through the Monastery. This same team is continuing its work by inputting rare manuscripts, or xylographic prints, and major texts that are essential for the preservation of the scriptural tradition. Its current project is the input and publication of a new version of the 75-volume Rinchen TerDzod.