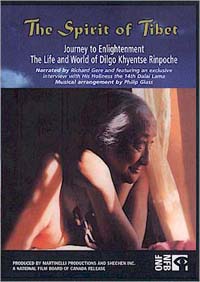 The Spirit of Tibet: The Life and World of Dilgo Khyentse Rinpoche
Narrated by Richard Gere and featuring an exclusive interview with His Holiness, the 14th Dalai Lama.
The Spirit of Tibet is an intimate glimpse into the life and world of one of Tibet's most revered 20th-century teachers: Dilgo Khyentse Rinpoche. A writer, poet and meditation master, Khyentse Rinpoche was an inspiration to all who encountered him. His many students throughout the world included the Dalai Lama and the King of Bhutan.
Filled with dazzling footage of rarely photographed parts of Tibet, Bhutan and Nepal and narrated by Richard Gere, this unique tribute to Rinpoche's life and work tells his story from birth to death to rebirth – from his escape following China's invasion of Tibet, to his determination to preserve and transmit Buddhist teachings far and wide. His life leads us on a journey revealing the wonders of Tibet's art, ritual, philosophy and sacred dance.
Exclusive footage of the Dalai Lama shows a different aspect of the Nobel Peace Prize winner as he speaks candidly of his own spiritual life. The film is co-produced by Shechen and offers wonderful images of Shechen Monastery and the life of the monks there.
Director Matthieu Ricard, noted French photographer and best-selling author, traveled for over 14 years with Khyentse Rinpoche. Music by Philip Glass, narration by Matthieu Ricard and Rudy Wurlitzer.
46 minutes. Also available through the National Film Board of Canada.