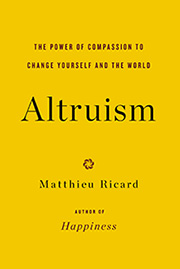 Altruism
By Matthieu Ricard
The Power of Compassion to Change Yourself and the World
Publisher:  Little, Brown and Company
ISBN: 978-0-316-20824-6
Matthieu Ricard, the author of the international bestseller Happiness and a prominent speaker on the world stage, celebrated at TED and the World Economic Forum at Davos, now makes a passionate case for altruism–and why it is the vital thread that can answer the main challenges of our time: economic inequality, life satisfaction, and environmental sustainability.
Altruism is Matthieu Ricard's new masterwork presenting a global vision based on decades of personal experience and insight, a roadmap for the 21st century.  Ricard demonstrates how altruism is not an abstract ideal, but an essential dimension of our nature that everyone can cultivate and expand.  He emphasizes developing altruistic compassion as the best means for benefitting ourselves and our society.
Major world entrepreneurs, economists and thinkers have embraced Ricard's message. It is universal in its approach and should appeal to anyone and everyone who seeks to create a more positive and sustainable future.