Sponsorship Programs
Shechen Monastery in Nepal needs your support for the growing number of monks who are coming to study and practice. The monastery provides for the monks' complete education in addition to covering all expenses for food, shelter, clothing and medical care. These sponsorship programs have been in effect for twenty-five years and provide partial support for over 500 monks and nuns. Please join us.
Monks' Fund
Over 400 monks study and live in the Nepal monastery. In the elementary school, 90 children receive a traditional education with a modern curriculum. Older students can enter the Shechen Philosophical College that offers a nine-year college course of advanced Buddhist studies or they can continue to study texts and meditation practices as well as perform in the monastery's daily ceremonies and serve the spiritual needs of the local community or abroad.
Nuns' Fund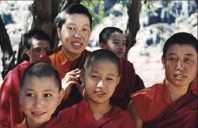 Shechen Orgyen Chodzong Nunnery in Bhutan provides a similar training and education for women, including a nine-year shedra or college training. One hundred nuns live, practice meditation, and are educated in this small rural nunnery and retreat center.
Your tax-deductible annual contribution of $250 goes towards the support of a child, nun, or monk and also helps to sustain the community as a whole.
This is a rare opportunity to help young people inherit the richness of their own culture and to preserve a vital link for future generations.
Become a Sponsor:
To make a One-Time Donation click "Donate" below:
To make a Recurring Donation please complete the form and click "Recurring Donation"
By Bank Transfer:
For information on how to send bank transfers or wire please contact shechen@sprynet.com  Thank you.