Featured Students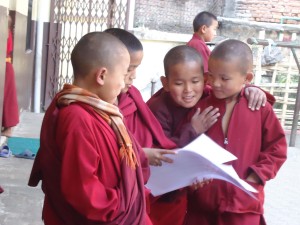 Twenty-five years ago, Dilgo Khyentse Fellowship initiated a sponsorship program to assist Shechen Monastery and Nunnery with the rising medical, living, and educational expenses for the five hundred monks and nuns under its care.
Our monks and nuns are "ambassadors" for this essential program and write to their sponsors annually with news and greetings.
Sponsorship is only $250/annually. Your sponsorship donations provide education and a better quality of life for the monks and nuns who study and practice in Shechen Nepal, Bhutan, and India. Please go to www.shechen.org .  Thank you.
Below are letters from three of these ambassadors.
---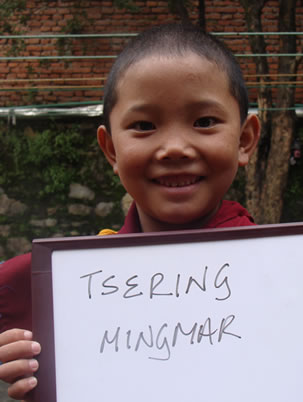 Hello,
My name is Tsering Mingmar. I am eight years old I came to Shechen Monastery from Mustang, which is very far away in the mountains. I came to the monastery to learn how to read. I like to play and I think Shechen is very nice.
Thank you. Tsering
---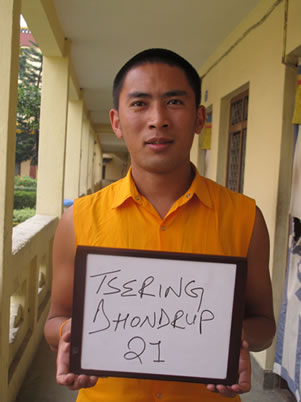 Dear Friend,
I finished all the lower classes in Shechen. I am in the shedra (higher Buddhist studies) and have also graduated from the monastery's Tsering Art School's, six year course in thangka
painting. " I am very fortunate to have such an opportunity to study and also to study art. As Milarepa said, 'the lama who stays on top of the mountain and the sponsors who help', lets pray we will get enlightened together." I wish you all the best in whatever you do.
Yours in the Dharma, Tsering Dundrup #21
---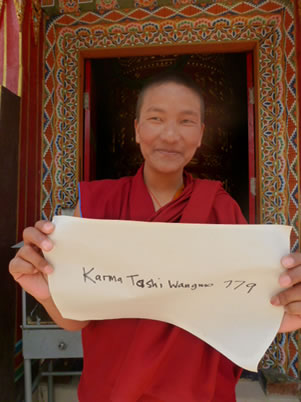 Dear Sponsor,
I am Karma Tashi Wangmo from the southern part of Bhutan, Dzongkhag Tshirang.  I have one brother, one sister and a younger brother in school Both of my parents are farmers. I heard the name of Shechen Nunnery where nuns have a chance to study and I came here. I am very happy because to get such a good nunnery and great teacher like Rabjam Rinpoche together at one time is very difficult.
Yours faithfully, Karma Tashi Wangmo #779