Shechen Archives
S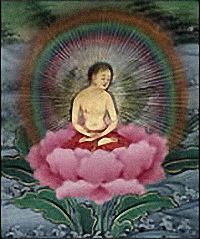 hechen Archives are located in the Tsering Art School building on the grounds of Shechen Tennyi Dargyeling Monastery in Nepal.
The archives shelter rare texts, paintings, photographs, and negatives in a climate-controlled room where they are protected from dust and dampness. These rare items are preserved and catalogued for the use of scholars, practitioners, and teachers throughout the world. In the adjoining archives office, photographs and manuscripts are catalogued and collected and research is conducted. Safely stored in the archives is a collection of several hundred ancient manuscripts, xylographic prints, and rare original Tibetan texts. Original thangkas and small miniature paintings that are essential for ceremonies and scholarly iconographic research are also preserved.
Photographic Archive
Included in this collection are twelve thousand color negatives of Tsagli (miniature paintings). Most of these were photographed in Tibet between 1985 and 1989. The original negatives are now duplicated and are easily available for further copying when needed. Prints made from these negatives are in constant demand by other monasteries and are of great interest to scholars.
Shechen has one of the richest collections of photographs of Tibetan art and culture: over one thousand original slides of thangka paintings, statues and precious objects, as well as thousands of slides of monasteries, holy places, and portraits. These were taken over the last thirty-five years in Tibet, Bhutan, India, and Nepal, and new photographs are constantly being added. The archives also house over 150 hours of film and video of Tibetan ceremonies, great teachers, cultural life, and people.
Preservation of Audio Recordings
Three hundred hours of teachings given by Dilgo Khyentse Rinpoche are protected within the archives. These rare talks cover major aspects of Buddhist philosophy and practice and are irreplaceable. They were recorded on 90 audiocassettes, and many of them are old and deteriorating. Shechen is in the process of archiving and further preserving these tapes. Your help is needed to complete the restoration.