Dilgo Khyentse Rinpoche
Memorial House, Kyichu, Paro, Bhutan
The Memorial House in Kyichu, Dilgo Khyentse Rinpoche's primary residence in Bhutan, was inaugurated as a museum and opened to the public in 2010 to celebrate his centennial. It has been preserved almost exactly as it was when he lived there.
Khyentse Rinpoche was one of the main spiritual teachers of the Bhutanese  Royal Family. With great devotion Her Royal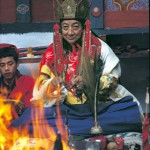 Majesty Ashi Kesang Choeden Wangchuck offered the house to Rinpoche in the 1970s. He spent part of each year there on retreat, giving teachings to his closest disciples, and participating in the annual drupchens at the neighboring Kyichu Monastery.*
The house includes the reception room where Rinpoche gave private audiences and teachings and his bedroom where he meditated daily and recited prayers. The wooden alcove he often used for larger teachings is preserved in the open area behind the house.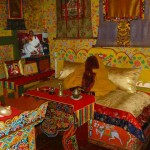 Photographs, personal belongings including ceremonial costumes and hats, letters from other great teachers, and his books, translated into over six  languages, are on display throughout the house. Visitors can also watch video documentaries about his life.
The Memorial House in Kyichu is a place of inspiration, blessing, and peace. It has been kept as it was to preserve the atmosphere and spirit that pervades it and as a reminder of how humble and profound a great teacher Dilgo Khyentse Rinpoche was.
Dilgo Khyentse Rinpoche's Residence
Memorial House, Kyichu
Paro, BHUTAN.
Tel: 00975 8 271797
Cell: 00975 17531177
Email: ngrabten@yahoo.com
Hours: 10am to 4pm, closed on Mondays
Entry fee: 50 ngultrim
* Kyichu Lhakhang is one of the oldest and most sacred temples in Bhutan. It was built in the 7th century by the Tibetan king Songtsen Gampo, and contains an original 7th century statue of the Buddha. In 1968 HRM Ashi Kesang Choeden Wangchuck built a Guru Temple next to it in the same style that was consecrated by Dilgo Khyentse Rinpoche.