Tsering Art School
The Shechen Institute of Traditional Tibetan Art, "Tsering Art School", was established by Shechen Rabjam Rinpoche in 1996, and is housed on the grounds of
Shechen Monastery in Nepal
. The aim of the school is to contribute to the preservation and continuation of authentic Himalayan Buddhist Arts.
The primary function of the school is to train young artists in a pure and authentic lineage of Buddhist thangka painting. Thangkas are painted scrolls used to aid Buddhist practitioners in their meditation. Dilgo Khyentse Rinpoche chose the painting master Konchog Lhadrepa to study the Karma Gadri style of painting in Rumtek , Sikkim. This painting lineage originated in Eastern Tibet and is known for its spacious landscapes and transparent treatment of color. The students are trained in this style for six years under the guidance of Konchog-la and some of the school's graduate artists.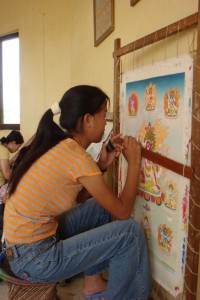 The student body is drawn from monks, nuns and lay men and women from the local community and abroad. School fees are kept to a minimum to ensure that people from all backgrounds have the opportunity to acquire these skills. In the spring of 2012 a large exhibition featuring the history and work of the art school was held in Nepal. You can read more about it in our Summer Newsletter.
Student Sponsorship Appeal
Help us preserve the Tibetan and Himalayan Buddhist cultures by making a donation to Tsering Art School or by sponsoring a student who would otherwise be unable to pay the school fees. Sponsors will be given one thangka painted by the student they have sponsored. The school fee for day students is $150 per year.
For further information on studies, the sponsorship program, purchasing incense or commissioning a thangka, textiles or tormas, please write to tsering.art@shechen.org
We are very grateful to the Shelley and Donald Rubin Foundation for supporting our Terma Thangka project since 2011.
Tibetan Painting and Monastic Life, a video produced by the Rubin Museum of Art: