#6 – January Newsletter
In this edition:
Teachers' News
Shechen Nuns in Retreat in Bhutan
Nyingma Monlam in Nepal
Peaceful Warrior: Khenpo Tsewang Samdrup
The Best Motivation
New Translation
Teachers' News
---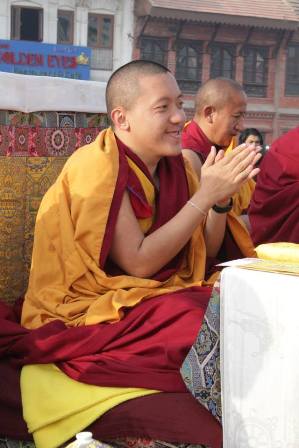 All of us at Shechen rejoice that Shechen Rabjam Rinpoche is continuing his intensive solitary retreat. During the summer and autumn, Dilgo Khyentse Yangsi Rinpoche continued his studies and retreat in Bhutan. In December, he travelled to India to teach at the Shechen Stupa and Elementary School in Shravasti and at the annual seminar in Bodhgaya.
He returned to Nepal for the fifth Boudha Nyingma Monlam (see below) and, at the request of Tengpoche Rinpoche, he bestowed the Pema Tse Nyingthik empowerment at Maratika Cave. His busy schedule continues as he returns to India to attend the annual Great Prayer Festival of the Nyingma Monlam Chenmo.
In March he will preside over the annual drupchen ceremonies, sacred dance festival, and other Shechen Monastery events. His teaching schedule will be announced in future emails. Click here to view or download the Events Calendar.
Shechen Nuns in Retreat in Bhutan
---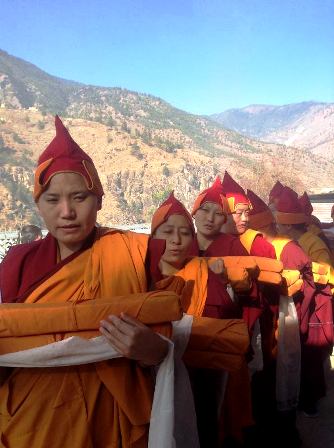 In early January, six nuns began a three-year retreat at Shechen Orgyen ChozongNunnery in Bhutan. They are the third group of nuns to do retreat at the Shechen Retreat Center. The nuns were chosen from the many who applied to enter retreat. A few of them have been studying in the nunnery's shedra (philosophical college).
The young women have received the teachings necessary to begin the retreat from Khyentse Yangsi Rinpoche, Rabjam Rinpoche, and their Khenpos. Throughout the retreat, the nuns will be doing practices from the terma (rediscovered teachings) of Dilgo Khyentse Rinpoche.
They will be sequestered in the hilltop retreat center during the retreat. Teachers (Khyentse Yangsi Rinpoche, their Khenpos, and other nuns from the shedra) will give them additional teachings throughout the years. During their third year, Rabjam Rinpoche will be finished with his long retreat and will offer them further instructions.
Intensive meditation retreats such as this one are essential for serious practitioners and for keeping the wisdom tradition alive. As His Holiness the Dalai Lama said, "Until now you have relied on monks to teach you, but in future it will be very important that there are also nuns to teach nuns. Therefore, I request you that, after your studies, consider going into retreat, and after that resolve to teach others."
We wish them good health and good practice. You can sponsor a nun in retreat as part of our sponsorship program.
Nyingma Monlam in Nepal
---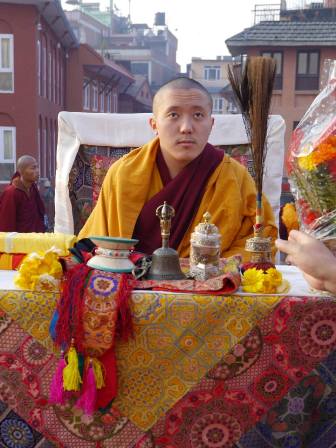 In January, Khyentse Yangsi Rinpoche led the Nyingma Monlam in Boudhanath for the first time. Also in attendance were his father Tsikey Choling Rinpoche, Namkhai Drime Rinpoche, Zongnor Rinpoche and other eminent teachers, monastics, and lay people. This is the fifth Nyingma monlam in Boudhanath, Nepal, modeled after the Nyingma Monlams held in Bodhgaya, India.
The word monlam is Tibetan; mon means aspiration/hope, lam means way/path, and a monlam is a way to fulfill an aspiration, or aspiration prayers for world peace. Tsong Khapa, the founder of the Geluk tradition, established the concept of conducting monlams in Tibet in 1409. It was the largest religious festival in Tibet and thousands of monks from the three main monasteries of Drepung, Sera, and Ganden gathered to chant prayers and perform religious rituals at the Jokhang Temple in Lhasa.
The first Nyingma Monlams were heralded in the early eighties by Dilgo Khyentse Rinpoche and Dodrupchen Rinpoche in Bodhgaya, India. They led hundreds of Nyingma monks and nuns in the chanting of the Arya-bhadracharya Pranidhanaraj, the most revered aspiration prayers, a hundred thousand times. The formal inauguration of the Nyingma Monlam Chenmo was principally initiated by Tarthang Tulku Rinpoche in 1989. All schools of Tibetan Buddhism hold major monlam prayer festivals in Bodhgaya every year, attracting thousand of participants in these prayers for world peace.
Peaceful Warrior: Khenpo Tsewang Samdrup
---
Khenpo Tsewang Samdrup (also known as Khenpo Hungtrampa), from Shechen Monastery in Nepal, is a charismatic teacher who has lived a fascinating life. He works as the chaplain to the British Army and this autumn, he came to New York to teach on behalf of Dilgo Khyentse Fellowship. This is the first time that a Khenpo from Shechen Monastery has taught publically in the USA and the evening was a great success.
Khenpo was born in 1982 in the Dolpo region of Nepal, into the distinguished Buddhist family lineage of Hungtram. His earliest education was with his grandfather, the Dzogchen master Hungtram Rinpoche.
At the age of nine he moved with his brother to Kathmandu and entered Shechen Monastery where he attended the elementary school and the dratsang. He excelled in his studies, and graduated from the Shechen Philosophical College (shedra) earning the highest degree of Khenpo. During that time he received teachings from the leading contemporary Nyingma teachers.
In 2007 Khenpo was selected to be the first ever Buddhist Chaplain to the United Kingdom Ministry of Defense, with the special responsibility to serve the Gurkha battalions in the British Army. He has been giving public and private counsel and teachings to the soldiers and has accompanied them on tours of duty in Afghanistan.
In 2011 and 2012 he received Appreciation Medals from the Prince of Wales for his service. In addition to his work with the Gurkha battalion, Khenpo teaches in various Buddhist centres, schools, and universities throughout the United Kingdom.
The Best Motivation
---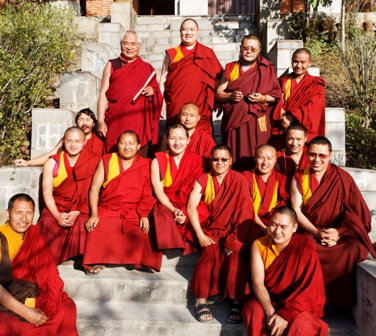 Thank you to all the sponsors and donors who reached out in 2013 to help Rabjam Rinpoche and Yangsi Rinpoche realize many of their projects for the Shechen monks and nuns. This year our sponsorship slightly increased and we are very grateful for your support.
Khyentse Yangsi Rinpoche's brother, Phagchok Rinpoche, recently wrote: "Please never let go of your good motivation. Constantly remind yourself of the extraordinary benefits that the loving heart has for yourself and others."
This sentiment also comes from all of us at Dilgo Khyentse Fellowship/Shechen and applies directly to you.
We look forward to working together with you this year.
New Translations
---
We are happy to announce that Dilgo Khyentse Rinpoche's books are continuing to be translated in many languages. This year there will be new translations available in Nepali, Chinese, Polish, Portuguese, and Spanish. Of course these books are still available in English and French. Please view and order our books, DVDs and CDs and Tibetan Texts from the publications section of our website.
Please send this newsletter to a friend and post it on your Facebook page. Thank you!