#19 May 2017 Newsletter
Quick links in this edition:
Spring Drupchens, Cham, and Empowerments
Long Life Ceremony for Khyentse Yangsi Rinpoche
Teachers' News
Shechen Eco Group's Zero Waste Campaign
Enthronements/ Graduations
Shechen Khenpo's Film Gains International Acclaim
Launch of New Book "The Art of Awakening"
Spring Drupchens, Cham, and Empowerments
---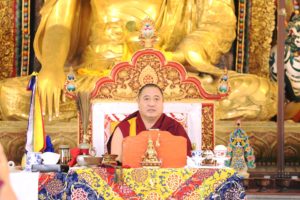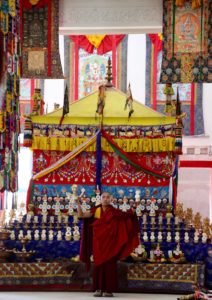 After a two-year hiatus, the annual drupchens (nine-day ceremonies) were performed in our newly restored temple! Devotees from around the world were in attendance. The drupchens concluded with the annual Tsechu Cham (Guru Rinpoche sacred monastic dances) and the Lama Sangdu empowerment, bestowed by Khyentse Yangsi Rinpoche on the following day.
From April 9-17, Shechen Rabjam Rinpoche conferred the historic empowerments and oral transmissions of Kyabje Dilgo Khyentse Rinpoche's Treasure Teachings. This was the first time that Shechen Rabjam Rinpoche has bestowed the complete cycle of empowerments at one time. The empowerments were attended by 85 Rinpoches, tulkus, and khenpos, including Dudjom Yangsi Rinpoche, Trulshik Yangsi Rinpoche, Urgyen Tulku Yangsi, Palyul Lhatrul Rinpoche, Diphuk Rinpoche, and Ringu Tulku and an assembly of over 5,000 monks, nuns and laypeople from around the world. Simultaneous translation into English, Chinese and Vietnamese was provided.
At the conclusion of the empowerments, Shechen Rabjam Rinpoche thanked the thousands who came to receive the empowerments:
"Today I would like to thank all of you and especially those who came from very far away – from Mainland China, Vietnam, Europe, the United States and from countries all over the world – to receive the Terma of Kyabje Dilgo Khyentse Rinpoche. I also want to thank the many senior students of the late Dilgo Khyentse Rinpoche, as by being here demonstrates your love and true devotion towards him. Even though I am not a qualified Vajrayana master, one thing I am proud to say is that I hold the unbroken pure lineage from the late Kyabje Dilgo Khyentse Rinpoche. So today I am very happy that I have been able to offer this complete terma cycle and I would like to thank you for attending this precious teachings."
Long Life Ceremony for Dilgo Khyentse Yangsi Rinpoche
---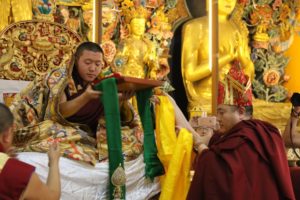 Before dawn on April 14 a special long life or tenshuk ceremony began for the long life of Khyentse Yangsi Rinpoche. Tibetan astrology states that obstacles can occur during the astrological year of our birth, which occurs every 12 years. For Rinpoche, this year, the Year of the Rooster, would be his obstacle year. A "ransom ceremony" is performed that dates back many centuries. An effigy of the guru along with many offering are given to the dakinis to prevent them from taking him to their realm, accompanied by prayers requesting that they be content with these offerings.
Shechen Rabjam Rinpoche led the prayers and masked dancers performed songs and dances in the courtyard as the effigy was taken away. This ceremony was attended by Khyentse Yangsi Rinpoche's family including Tsikey Chokling Rinpoche, Mayum-la, Pakchok Rinpoche and Semmo Kelsang Tsangsar as well as visiting dignitaries, monks and nuns of Shechen, and the local community.
Teachers' News
---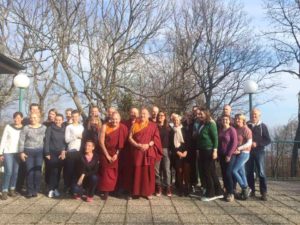 After the empowerments, Shechen Rabjam Rinpoche returned to Croatia for the first time since his three-year retreat concluded, to continue the annual closed seminar teachings on the treasure teachings of Dilgo Khyentse Rinpoche. This is the sixth year of the retreat.
Chime Rinpoche, a nephew of the last Dilgo Khyentse Rinpoche, also attended and gave a brief teaching. Shechen Khenpo Sangay Phuntsok also gave teachings on Nagarjuna's text 'Letter to a Friend'. Oral translation was done by Lama Sean Price. Rinpoche expressed how happy he was with the students' dedication to this path and their practice.
On April 10 Khyentse Yangsi Rinpoche visited the remote community of Taplejung in south Nepal to fulfil a long-standing invitation by his attendant Nyima Tsering who comes from that region. Rinpoche bestowed the long life empowerment of Chime Phakme Nyingtik to the villagers. Nyima Tsering and his family offered large parcels of land to the monastery where a school and an old people's home will eventually be built.
Later in the month, Khyentse Yangsi Rinpoche flew by helicopter to the historic Changmiteng Orgyen Choling monastery in Solukhumbu during the annual Vajraguru mantra recitation. Rinpoche bestowed the long life empowerment of Tangtong Gyalpo and the monks from the monastery's philosophical college received their graduation diplomas.
Rinpoche's next visit was to Thupten Chöling Monastery, the retreat community and monastery established by Kyabje Trulshik Rinpoche in the 1960's in the Solukhumbu district of northeastern Nepal. Rinpoche gave empowerments and met with the monks and nuns.
On the 4th May Khyentse Yangsi Rinpoche gave a lively dharma talk to over two hundred foreign devotees on how to integrate Dharma practice into daily life, with simultaneous translation into Chinese. In October and November Rinpoche will be giving teachings in Singapore, Australia, Shechen Mexico, Hong Kong, and Malaysia. More information on these events will be posted in future newsletters. Follow his spontaneous talks that will be posted on Facebook from time to time.
Shechen Eco Group's Zero Waste Campaign
---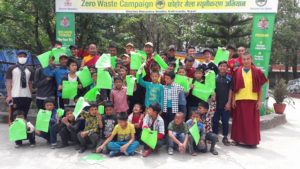 The Shechen Eco Group hosted a Zero Waste Campaign including showrooms and demonstrations, in the entrance to Shechen Monastery from March 17th to April 17th to raise environmental awareness. This campaign was very successful, attracting hundreds of visitors including many local schools and monasteries. It even inspired media attention. You can read this article to learn more about the campaign and the group's aspirations and activities. The Eco Group plans to make this campaign an annual activity, with the members strongly committed to reducing waste and pollution in the monastery and society at large.
In March the group received further training from Canadian fire fighter Chris Wilvert on Earthquake Rescue Training. Chris has visited the monastery a number of times to train the monks in earthquake preparation, which served in good stead during the earthquakes of 2015. This time he taught the monks some of the basic principles of rescue. Chris also advised the monks on the need to for everyone to have "Go-Bags" in case of another earthquake and the necessity of continuing with regular earthquake drills. Please donate to support the Eco Group's activities.
Enthronements and Graduations
---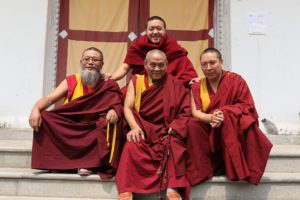 This year Lopen Gyurme Jinpa, was auspiciously enthroned as a Vajra Master (Dorje Lopon). In the Shechen tradition, a Vajra Master is someone who has completed his monastic studies and is adept at rituals, served as the discipline master for one year and chanting master for three years, and has completed a traditional three-year retreat.
Three monks at Shechen, all of whom have completed at least one three year retreat, have now been conferred this title. In addition, Tulku Urgyen Dorje was officially enthroned as the successor of the previous Dorje Lopon Dhonam Rinpoche. More than 500 people gathered in the main temple and there were katah (traditional scarves) offerings and aspiration prayers recited for the flourishing of his Dharma activities.
We also congratulate the fourteen monks who graduated as Lopons from the nine-year Shechen Shedra (Philosophical College), the four nuns who graduated from the Shedra course at Shechen Orygen Chodzong Nunnery in Bhutan, as well as the graduates from the Elementary School (Lobdra), Ritual College (Drasang), and Tsering Art School.
Shechen Khenpo's Film Gains International Acclaim
---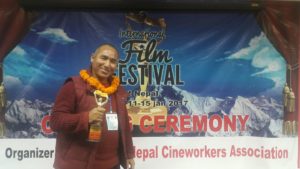 Khenpo Shelnang Mugum Tamang came to Shechen Monastery as a young child, graduated from its Philosophical College, and worked for many years in the monastery office. He is also now an acclaimed film director.
His short film, JhaLo–the Year of the Bird, is the story of a young boy whose emotional trauma gets healed. It has been shown in international film festivals and won a number of awards, including at the Fifth Nepal Human Rights International Film Festival and the Fribourg Festival in Switzerland.
Read an in-depth interview with Khenpo
New Book "The Art of Awakening"
---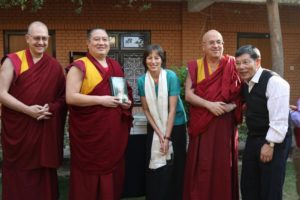 A small blessing ceremony presided over by Shechen Rabjam Rinpoche was held in in the garden of Shechen Guest House to launch The Art of Awakening: A User's Guide to Tibetan Buddhist Art and Practice, co-authored by Shechen's Tsering Art School Principal, Konchog Lhadrepa, and his student Charlotte Davis. The book is based on Konchog-la's book originally written in Tibetan. It is a unique book focusing on how to integrate sacred art and Dharma practice. It contains many detailed teachings and quotations on the benefits of practising and commissioning sacred art. The book has been co-published by Shambhala and Shechen Publications.