#18-February-2017-Newsletter
Quick links in this edition:
Happy Losar Tashi Delek from Shechen
Annual Drupchens and Lama Dance
Empowerments of Dilgo Khyentse Rinpoche's termas
Restore Shechen Update
Shechen Bodhgaya Seminar
Imagine Clarity Meditation App
Other Links
Happy Losar Tashi Delek from Shechen

Shechen Rabjam Rinpoche, Khyentse Yangsi Rinpoche, and the monks, nuns and staff of Shechen wish all of you a very happy Losar, Tibetan New Year, the year of the Fire Rooster. We extend our prayers for peace and the enlightenment of all sentient beings.
Annual Drupchens and Lama Dance
---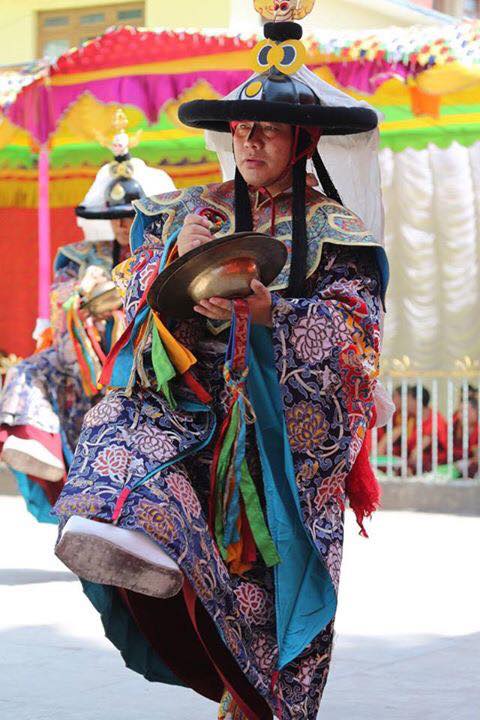 Every year in the "Miracles Month" after Tibetan New Year, Shechen welcomes Losar (Tibetan new year) with drupchens and other ceremonies to purify obstacles and invoke blessings, harmony and auspiciousness. The drupchen ceremony is presided over by Shechen Rabjam Rinpoche, Khyentse Yangsi Rinpoche, Adzom Gyalse Tulku, and the tulkus, khenpos, and over four hundred monks of Shechen.
The Yamantaka drupchen is performed just prior to the New Year to dispel obstacles for the coming year. Then, during next six weeks a series of major drupchens and ceremonies are performed to powerfully establish the enlightened altruistic intention for the benefit of all sentient beings, and purify and bless the environment and beings.
The drupchens conclude with the annual Tsechu Cham (Guru Rinpoche sacred monastic dances) on the 6th April. Dating back to the 9th century, when Guru Padmasambhava introduced Buddhism to Tibet, the dances were choreographed and composed out of the visionary experiences of great masters. The tsechu is known as "The Festival of the 10th Day", and is a spiritual and artistic celebration honoring the eight manifestations of Padmasambhava, particularly his coming to Tibet to establish Buddhism.
Prior to the Yamantaka drupchen, Shechen Rabjam Rinpoche bestowed the Yamantaka Empowerment to Khyentse Yangsi Rinpoche and the monks of Shechen Monastery. This was the first event to be held in the temple since the earthquake in 2015.
Please click on this link to download the drupchen schedule.
Empowerments of Dilgo Khyentse Rinpoche's Termas
---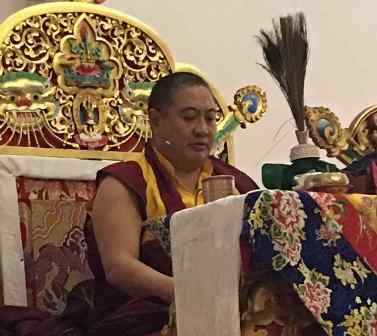 Shechen Rabjam will confer the complete cycle of Kyabje Dilgo Khyentse Rinpoche's Treasure Teachings or terma (Empowerment & Lung) at Shechen from April 9th to 17th.
Dilgo Khyentse Rinpoche's tertön name is Pema Dongak Lingpa and his complete collection of rediscovered treasure texts fills five volumes.
Further details will be published as they become available on the Dilgo Khyentse Fellowship website and Facebook.
Restore Shechen Update
---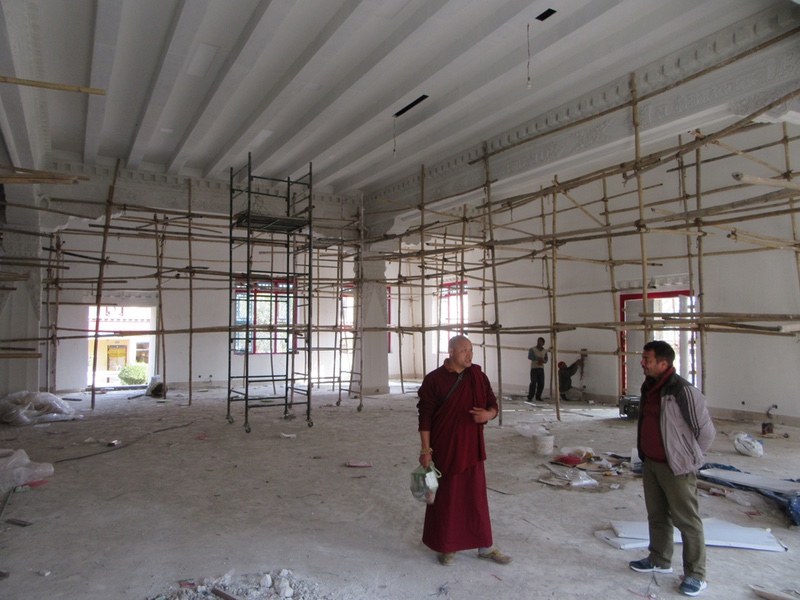 Thanks to the generous donations of hundreds of donors from over 30 countries we have made amazing progress on rebuilding Shechen Monastery. It has been a heart warming experience to receive daily contributions – some small, others large, some recurring – from so many people from diverse backgrounds and cultures. Your support has allowed us to complete much of the restoration work, providing the ground for this precious lineage to continue and flourish in the future.
Rebuilding and restoration after the earthquake of April 2015 initially began in the fall of that year with a massive cleanup and evaluation. Under the careful and experienced supervision of Luc Cholley (the engineer who also built Shechen Monastery in India) the work began. He carefully chose the correct materials and crews to repair the cracked buildings, tear down and rebuild Rabjam Rinpoche's residence, and began the arduous process of retrofitting and stabilizing the main temple building and compound.
Work progressed despite government and weather-related problems, endless holidays and bad road conditions. We are delighted to report that, on February 17th, the temple was used for the first time since April 2015. Auspiciously it was for an empowerment given by Rabjam Rinpoche.
The walls are still bare and white; the exterior needs painting and ornaments; the garden needs to be replanted. However, the annual ceremonies will be held in the temple and in mid-April the restoration work will resume, including the huge task of repainting the murals inside the temple.
The senior's residence at the retreat centre in Namo Buddha is almost completely rebuilt under the generous auspices of Karuna-Shechen. Rabjam Rinpoche's residence is still under construction.
We will keep you updated on the last stage of the restorations. Donations are still needed, so please continue to help us complete this important work.
Shechen Bodhgaya Seminar
---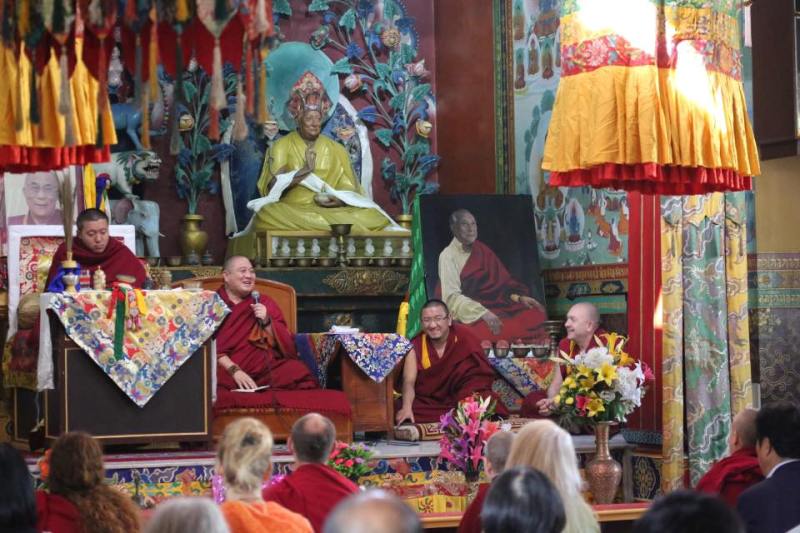 Between December 6 and 16th, 2016, students from seventeen countries* met for the seventh year of the Shechen Seminar in Bodhgaya, India. This is a progressive 10-year meditation/study program based entirely on His Holiness Dilgo Khyentse Rinpoche's termas (treasure teachings).
We have been fortunate to be guided by Shechen Rabjam Rinpoche, Dilgo Khyentse Yangsi Rinpoche, Changling Rinpoche, and Lama Sean Price for this annual seminar since 2010. We were overjoyed to have Rabjam Rinpoche back with us again for this year's seminar, following his three-year retreat.
This year, both he and Khyentse Yangsi Rinpoche conferred empowerments from Khyentse Rinpoche's terma cycles. Rabjam Rinpoche also offered a number of reading transmissions to the group on practices that we will do this year and in the future. Each year we are given a practice commitment that must be completed before returning the next year.
Our last evening concluded with a joyful celebration for Rabjam Rinpoche's birthday. Yangsi Rinpoche requested that each group sing their national anthem, challenging the aging memories of many of us!
Rabjam Rinpoche told us that Khyentse Rinpoche's terma is still "very fresh" and vital, and he has encouraged us to preserve the authenticity of these teachings by practicing steadily with confidence. A second group of students in Croatia are continuing the same path of practice and study that is followed in the Bodhgaya seminar.
This year, a third stream began in Bodhgaya comprised of students primarily from Australia and Malaysia. We all hope that we can contribute to further planting Khyentse Rinpoche's precious terma in the world.
*Croatia, Denmark, the UK, Ireland, Germany, The Netherlands, Australia, Singapore, Hong Kong, Malaysia, Nepal, India, the US, Canada, Mexico, and Brazil
Report by Juanita Evans, Bodhgaya Seminar Participant
Imagine Clarity Meditation App
---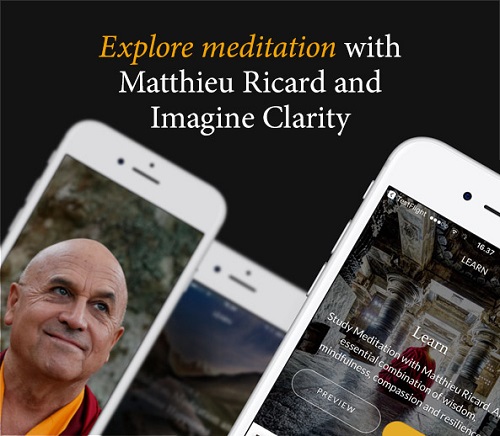 Welcome to Imagine Clarity, the new app with instructions by Shechen monk, author, scientist, photographer, and humanitarian Matthieu Ricard.
Imagine Clarity provides users with easy-to-follow meditation techniques drawn from Ricard's 40 years of study with Tibetan Buddhist teachers. It features 5+ hours of video tutorials with Matthieu Ricard, daily guided meditations with his colleague Charles Hastings, and an ever-expanding content that combines meditation teachings with Compassion in Action.
Imagine Clarity's Learn•Practice•Act meditation program provides guidance for exploring meditation tools and developing this skill. Author proceeds from the app benefit the humanitarian programs of Karuna-Shechen.
Learn more: Apps for Imagine Clarity
Other Links
---
For continuing news please regularly visit our website where you can sponsor a monk or nun, donate to one of our projects, request prayers and find new information and photos. Current photos and news can also be found on our Facebook page.