#16-December-2016-newsletter
Quick links in this edition:
Teacher's News
The Sad Passing of Ven. Yangtang Rinpoche
Joyful Recognition: Discovery of a Shechen Monk's Reincarnation
Commemorating HH Dilgo Khyentse Rinpoche's 25th Anniversary
Annual Drupchens and Monastic Dances
Tsering Art School Exhibition in Hong Kong
Shechen School, Nuns, and Sponsorship
Post Earthquake Reconstruction News
Double Your Impact! Restore Shechen Matching Gift Campaign
Other Links
Teacher's News
---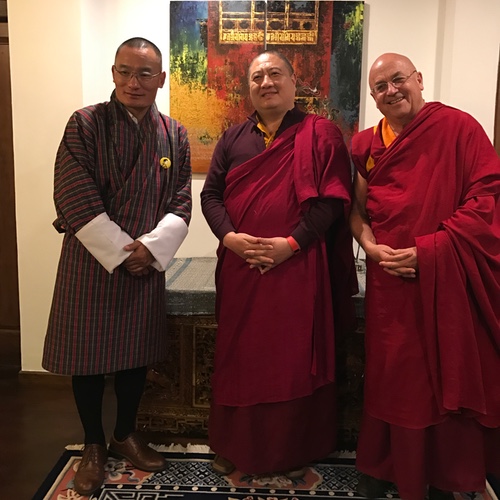 Since our last report in early September, Khyentse Yangsi Rinpoche and Shechen Rabjam Rinpoche have, for the most part, stayed in Bhutan.
As reported in our last newsletter, after the conclusion of his long retreat in April, Shechen Rabjam Rinpoche travelled to the UK and Nepal, followed by a trip to India, where he paid respects to Taklung Tsetrul Rinpoche's kudung (sacred body).  At the end of September Shechen Rabjam Rinpoche gave a series of empowerments of the treasure teachings of Dilgo Khyentse Rinpoche to the Shechen nuns in Bhutan. They practice these teachings both in retreat and in the nunnery and also perform all the drupchens and ceremonies associated with this precious lineage. On November 22 Rabjam Rinpoche presided over the consecration ceremonies of the newly restored temple at Tharpa Ling, which was the main seat of Longchenpa (1308-1363) in Bhutan, and thus a very sacred and precious site.
Gelong Matthieu Ricard had an extensive schedule of events throughout Europe and the USA, where he launched his new book, A Plea for the Animals. He also visited Bhutan in October and gave a talk on Altruism, at "RIGSS" (Royal Institute for Governance and Strategic Studies) in Phuntsokling, which was attended by about 200 people, mostly in public service. Matthieu also gave a public talk organised by the Shechen Dharma Society in Thimphu, titled, The Importance of Altruism in Buddhist Practice. Her Royal Highness Ashi Kelsang Wangchuk and the Minister of Health both attended.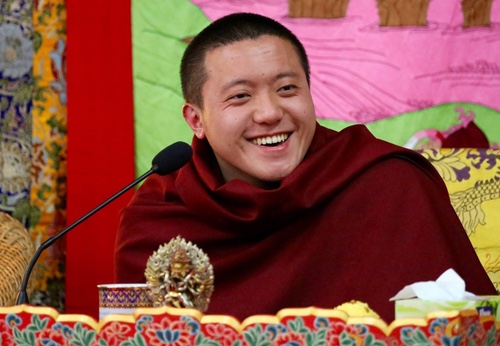 On October 25, Khyentse Yangsi Rinpoche gave a teaching at Thimphu Druk School on generating altruistic motivation and putting it into action. On November 10, Rinpoche went to Delhi to meet with HH Sakya Dolma Phodrang and pay homage to HH Sakya Dagchen Phuntsok Phodrang Rinpoche's rupa (body). Rinpoche then returned to Shechen Monastery in Nepal and on November 18 to 20, along with many eminent Rinpoches, khenpos, and monks and nuns from the four main schools of Vajrayana Buddhism, he led the Shechen monks in the the consecration ceremonies of the great Boudhanath Stupa, which had been restored after it was damaged by the 2015 earthquakes.
In December, Shechen Rabjam Rinpoche, Khyentse Yangsi Rinpoche and the monks and nuns of Shechen will travel to Bodhgaya as usual to lead the annual drupchens at Shechen and to teach at the annual Shechen Seminar. They will then return to Nepal for the drupchen ceremonies in the spring.
The Sad Passing of Ven. Yangtang Rinpoche
---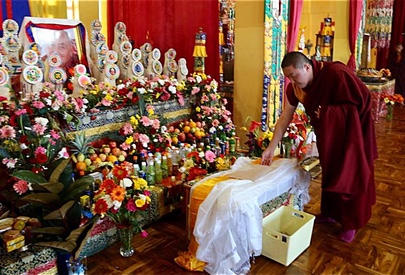 It was with great sadness that Shechen received the news of Yangthang Rinpoche's passing on October 15th. Venerable Yangthang Rinpoche was an emanation of the great Vimalamitra and the immediate incarnation of the Terton Dorje Dechen Lingpa. He was a main lineage holder in the Nyingma Tradition and widely recognized for the quality and depth of his realization, the power of his attainment, and the purity of his transmissions.
Dilgo Khyentse Yangsi Rinpoche travelled to Sikkim to offer Lamai Nyaljor Tsog in the presence of the kudung (sacred body) of Yangthang Rinpoche in Deorali Chorten Gonpa. About fifty monks from Shechen Nepal also went to offer pujas at the kudung. Shechen Monastery and its branches are performing the guru pujas from the termas of Dilgo Khyentse Rinpoche to supplicate the guru and request his swift rebirth.
Khyentse Yangsi Rinpoche shared this message with us:
"…I request all my dear dharma friends to please practice Guru Yoga and pray for Rinpoche's swift and good rebirth. It is through our merit and unwavering dedication that we have had the great fortune of receiving his guidance and blessings. We must remember that the Guru truly never leaves us."
The monks and nuns of Shechen have a very special connection with Ven. Yangthang Rinpoche who had recently bestowed two major empowerments at Shechen Monastery in Nepal: the Namcho (gnams chos) empowerments in 2013, and the empowerments of the cycle of Ratna Lingpa in 2015. The latter empowerment concluded at the very moment that the major earthquake struck, causing so much tragic loss of life and destruction. Everyone there was inspired by his calming and stable presence.
Khyentse Yangsi Rinpoche and fifty monks from Shechen Nepal attended the cremation ceremonies on 2nd December at Yogsam monastery in Sikkim, alongside the Rinpoches and monks from many other monasteries.
Joyful Recognition: Discovery of a Shechen Monk's Reincarnation
---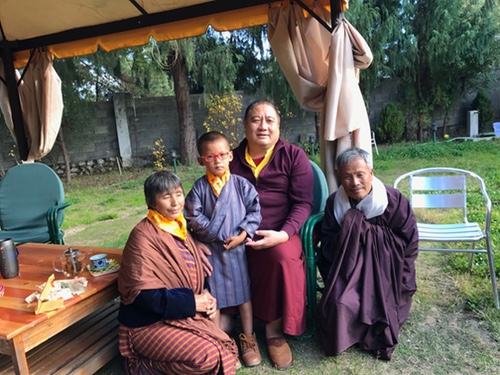 Earlier this year Tsultrim Tarchen, a five-year old boy from Silambi, Mongar (Eastern Bhutan) went with his father, Sangay Letho and mother, Sangay Zangmo, to attend the Rinchen Terdzo empowerments being bestowed by Dzongsar Khyentse Rinpoche at Takila in Northern Bhutan.
When the boy saw some of the monks from Shechen Monastery, his behaviour amazed everyone who witnessed it. Based on his repeated statements it appeared that he must be the reincarnation of a monk from Shechen Monastery, called Tamdrin (ordained name Jigme Sherab).
Tamdrin had died tragically on the 27th of December 2006, from lack of oxygen due to a stove left burning in his room. The little boy's parents said that at a very young age he spoke of fire and smoke and his monastery friends to his father, but the family didn't pay much heed to his stories.
There are many things that the boy said and did to confirm his previous life. One moving example was when he saw a particular monk from Shechen he said, "Oh, I admitted you to the monastery, where is the other one?" It turns out that Tamdrin had personally admitted this monk to Shechen, along with another child. The parents of the late monk, Tamdrin, came to meet the little boy. When he saw his parents from his previous life, he became very shy and hid, peeping at them from behind a door. They left some gifts for him and when they left, he cried and said "my father and mother have gone."
Rabjam Rinpoche said:
"When he came to see me, he stayed in his previous parents house and when he was there he asked me where his mala was, where his radio was, and many things like that."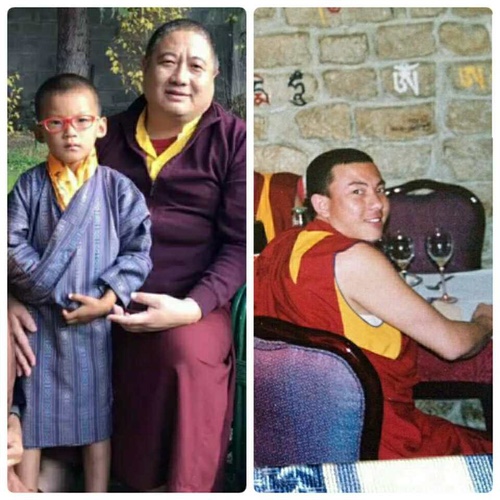 Rinpoche expressed his happiness at seeing this child, who had been one of his monks. In the case of the recognition of a tulku (reincarnate lama), very rigorous testing procedures need to be taken.  Rinpoche pointed out that it is a very pure example confirming the belief in reincarnation. 'This is a case of an ordinary child remembering his life as an ordinary monk."
The monks and teachers of Shechen were very joyful to meet the reincarnation of their old friend in this little boy.

Commemorating HH Dilgo Khyentse Rinpoche's 25th Anniversary
---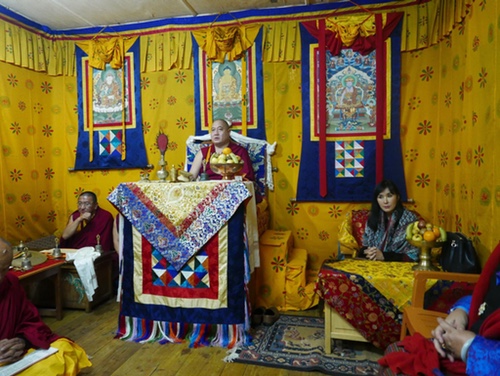 Ceremonies were held worldwide on October 19th to commemorate the 25th anniversary of HH Dilgo Khyentse Rinpoche's Mahaparinirvana. Dilgo Khyentse Rinpoche was one of the most renowned Tibetan masters of the last century and established the Shechen Monastery in Nepal. The parinirvana anniversary of a great lama is usually observed by ceremonies.
Shechen Rabjam Rinpoche explains:
"The practise of remembering the Guru, or Guru Yoga is done at all times on a daily basis. This practice is considered especially important in the Nyingma tradition, as the Gurus or realised masters are considered to be inseparable from the source energy of Guru Rinpoche himself, the energy of enlightenment, our own true nature.  The importance of this practice is spoken of in the Sutras and Tantras, which is why we observe this practice on the anniversary of our Gurus, to honour and remember them, and put their teachings into practice."
In Bhutan, three days of ceremonies were held for this special 25th anniversary. On the first two days the Rime Lama Chopa (non-sectarian Guru Yoga) practice composed by Dilgo Khyentse Rinpoche with insertions by Trulshik Rinpoche, was lead by Shechen Rabjam Rinpoche at Shechen Ogyen Chozong Nunnery. This very beautiful practice includes masters from all four schools of Tibetan Buddhism. On the third day the ceremonies were held at the Thimphu Hospital in the room where Khyentse Rinpoche had passed away. HRH Kezang Wangmo also attended these ceremonies.
In New York, the Shechen Dharma Friends of NYC hosted an all-day ceremony attended by over 150 people at the Sherpa Temple in Queens. The guru yoga from the terma (treasure teachings) of Khyentse Rinpoche, Rangjung Pema Nyingtik was performed, led by the chant master, Gyurmed Wangchuk.
The elaborate ceremony included beautiful hand-made tormas (offering cakes), a large tsok (feast) offering, and sacred music and tunes exactly as it is done in Shechen Monastery, Nepal. At the end of the ceremony, the whole assembly offered katas (white scarves) to the shrine. Lunch and dinner were also served.
Ceremonies were also performed throughout the world in the Shechen Monasteries, Nunnery, and centres, to honour the life and teachings of Dilgo Khyentse Rinpoche.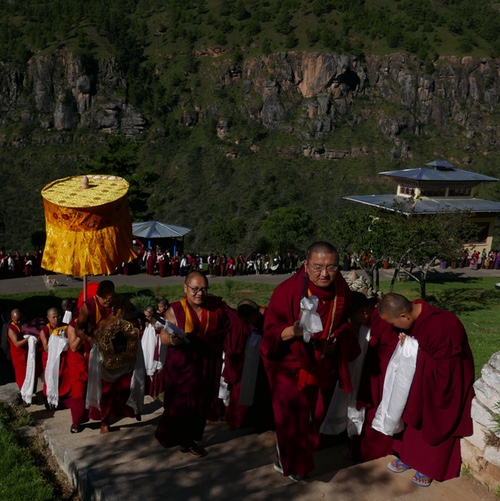 Do not forget the Lama
Pray to him at all times.
Do not forget death
Persist in Dharma.
Do not be carried away by thoughts
Watch the nature of mind.
Do not forget sentient beings
With compassion dedicate your merit to them.
Annual Drupchens and Monastic Dances
---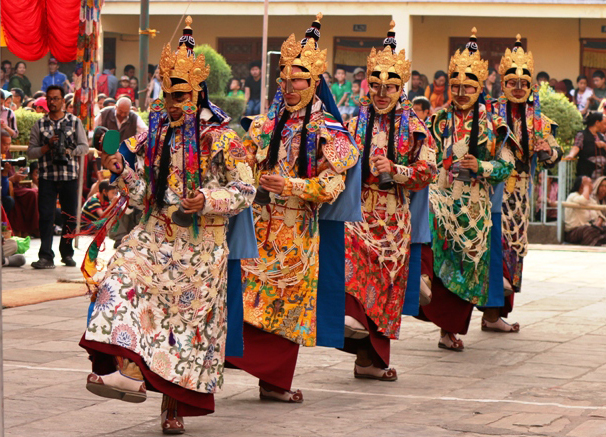 In the "Miracles Month" after Tibetan New Year, Shechen traditionally conducts drupchen ceremonies to purify obstacles and invoke immense blessings, harmony and auspiciousness for the year ahead. There are also drupchens held prior to Losar (Tibetan New Year) at Shechen in Bodhgaya, India.
The drupchens always conclude with the Lama Sangdu three-day ceremony, culminating with the famed Tsechu Cham (monastic dance). The dance is a spiritual and artistic celebration honouring the eight manifestations of Padmasambhava. Dating back to the ninth century, when Guru Padmasambhava introduced Buddhism to Tibet, the dances have been practiced and advanced from the visionary experiences of great masters.
Please click on this link to download the drupchen schedule.

 Tsering Art School Exhibition in Hong Kong
---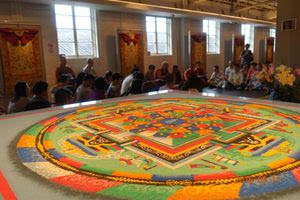 A second exhibition of thangkas painted by the Shechen Tsering Art School was held in Hong Kong from September 1-11.  The director of Tsering Art School, Konchog Lhadrepa, and five students and graduates from the school were invited by Khamgar Pendhe Ling Foundation to exhibit these sacred Tibetan paintings.
The exhibition featured many magnificent paintings including a large Medicine Buddha thangka and a sand mandala created within the gallery. The artists were available throughout the show to answer questions, demonstrate techniques, and help younger artists learn. This was a wonderful experience both for the artists and the public that filled the gallery.
This is the second exhibition of the Shechen Art School in Hong Kong, and it is planned for this to be a regular occurrence.
Shechen School, Nuns, and Sponsorship
---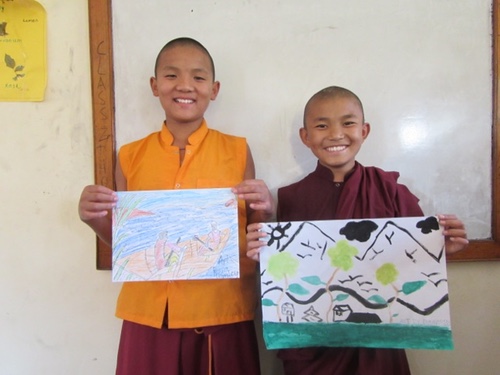 Thanks to your warm response to our appeal in the last newsletter, the Shechen School (Shechen Mahaboudha Vidyalaya), was able to buy furniture for the new classrooms and a new washing machine. Your generosity is deeply appreciated.
The school encourages creativity in its curriculum and the students are responding with enthusiasm. One project involved making colourful drawings of their homelands, which for many students are remote rural villages.
The new hostel for the Shechen Orgyen Chodzong Nuns in Bhutan in the Valley of the Cranes will be completed and furnished by the time winter sets in. This is a major improvement from last year when they lived in makeshift huts and had to study in the cold! The hostel has only been possible because of the kindness of all our donors.
In 1986, the Magnum photographer and nun, Ani Marilyn Silverstone, initiated a Sponsorship Program to help the newly built Shechen Monastery support its monks. At that time, they were only children and adolescents. Throughout the last 30 years, this program has continued to be a backbone of support for the nunnery and monastery.
Your sponsorship provides the support for the next generation of Tibetan Buddhist teachers (both men and women). It is an engaged way to enrich a young person's life and simultaneously be a part of preserving a wisdom tradition.
Sponsorship is $250/annually or through a monthly recurring donation. Please consider becoming a sponsor.
Thank you!
Post Earthquake Reconstruction News
---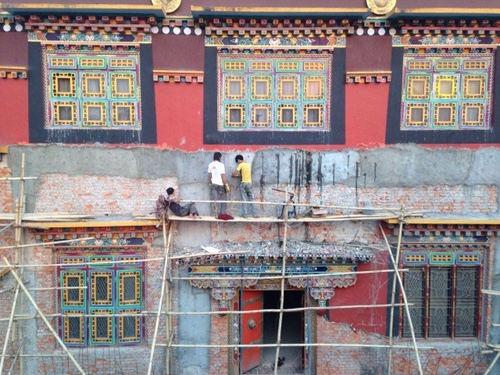 The earthquakes that struck Nepal in April and May 2015 caused serious damage to Shechen Monastery's main temple building and other structures in the compound, as well as to Rabjam Rinpoche's residence and the seniors' home at Namo Buddha.
Thanks to the generosity of our donors, restoration and rebuilding began as soon as was possible. Under the supervision of local and foreign experts, over half the work of rebuilding and retrofitting the main building has been completed.
The second stage has now begun and is progressing as well as possible under very challenging conditions. We are using state of the art building materials and retrofitting techniques to strengthen the original structures to withstand future earthquakes. The ground floor pillars and supporting beams have been injected with epoxy for strength. The marble floors had to be taken up and new marble will be re-laid soon. All the walls are being rebuilt, inside and out. Unfortunately, it was impossible to save the precious frescoes, the quality of which was unsurpassed.
Repainting the frescoes will begin this summer and will take up to three years to complete. Work also continues on Rabjam Rinpoche's residence, which had to be completely rebuilt, as well as on the Namo Buddha seniors' home.
We are hoping that enough work can be completed by the spring so that the annual drupchens can be conducted in the main temple.
In order for us to complete the rebuilding we need your help. We cannot finish without your support! Please contribute to our Matching Fund (see below).

Double Your Impact! Restore Shechen Matching Gift Campaign
---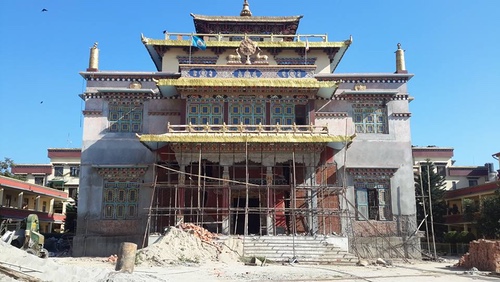 We have amazing news!
A generous donor has offered up to $100,000 for every donation made toward the restoration of the monastery between now and December 31, 2016.
Now your generosity has a double impact! Any amount, large or small, will be matched.  As of December 1, we have reached 1/3 of our goal.
Please help us by contributing to our Matching Fund Campaign and be part of the community that supports and initiates the continuation of this precious Tibetan wisdom lineage and teaching.
Now is your chance to make a real difference and help the monastery recover from the earthquake damage.
Mark your donation "Restoration" and it will be matched dollar for dollar.
Other Links
---
For continuing news please regularly visit our website where you can sponsor a monk or nun, donate to one of our projects, request prayers and find new information and photos. Current photos and news can also be found on our Facebook page.