#13 – February 2016 Newsletter
Quick links in this edition:
The Passing of Two Great Lamas of the Nyingma Tradition
Nyingma Monlam in Bodhaya, India
Losar and the Annual Drupchens in Nepal
Remembering Patricia O'Sullivan
Looking Forward
Other Links
The Passing of Two Great Lamas of the Nyingma Tradition
---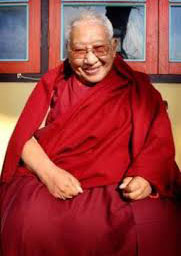 The recent passing of two great lamas from the Nyingma Tradition has been a great loss to all of us. Kyabje Taklung Tsetrul Rinpoche  (1926-2015) passed into parinirvana in Bodhgaya, India, on December 23. He was the Supreme Head of the Nyingma Lineage and the principal lineage holder of the Northern Treasures lineage (Changter). A week later, the great Kyabje Chatral Sangay Dorje Rinpoche (1913-2015) passed into parinirvana on December 30 while in extended retreat in Nepal, at the age of 103.
Kyabje Taklung Tsetrul Rinpoche bestowed empowerments at Shechen in Bodhgaya only days before his passing. Khyentse Yangsi Rinpoche, who has a close connection with Rinpoche, reminded us:
…It is through our merit and unwavering dedication that we have had the great fortune of receiving His Holiness' guidance and blessings. We must remember that the Guru truly never leaves us.
Kyabje Taklung Tsetrul Rinpoche kindly bestowed the Northern Treasures and other empowerments on many teachers, including Dilgo Khyentse Yangsi Rinpoche, the previous Dilgo Khyentse Rinpoche and Shechen Rabjam Rinpoche. Shechen Monasteries and Nunnery are conducting prayers for his swift rebirth and for the fulfillment of his activities. We pray that Kyabje Taklung Tsetrul Rinpoche's emanations will swiftly reappear to continue benefiting the Dharma and all beings.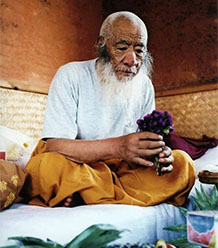 The great Kyabje Chatral Sangay Dorje Rinpoche was famed for his supreme accomplishment as well as great simplicity and humility. His disciples encourage anyone who feels a connection with his teachings to take a vow of vegetarianism, even for a period of time, and to save the lives of as many beings as possible in the month after his passing, dedicated to his activity.
Please click this link to read the statement from Dudjom Rinpoche on Chatral Rinpoche's passing.
Nyingma Monlam in Bodhaya, India
---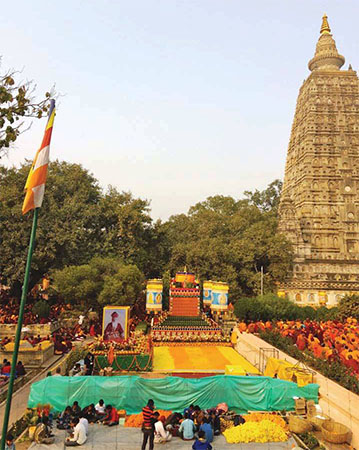 The 27th World Peace International Ngagyur Nyingma Monlam Chenmo in Bodhgaya was held January 10-19, followed by a day of prayers for the late Kyabje Chatral Rinpoche and Kyabje Taklung Tsetrul Rinpoche.
Four Nepali monasteries shared the workload of organizing and managing the monlam: Dzogchen, Mindroling, Jonang Monastery (a branch of Namdroling), and Shechen. The monlam was attended by 10,000 monks and nuns from all the Nyingma monasteries, along with ngagpas and lay people from all over the world – primarily from the Himalayan region of Nepal, Bhutan, Tibet, and India.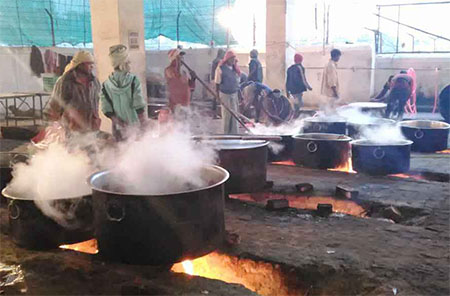 Shechen was well represented throughout the monlam. Nuns from Sissinang joined over a thousand nuns in prayers at the stupa. About 150 Shechen Shedra and Dratsang monks travelled two days by bus from Kathmandu to prepare food and attend the monlam. With the help of local Indian staff, the Shechen monks prepared breakfast, lunch and dinner for 5,000 monks, nuns, ngagpas at the Nyingma Monastery. In addition, they served 200 rinpoches, tulkus, khenpos and lopons at the Maha Bodhi offices. Each day, starting at 3 a.m., the monks cleaned, chopped, and peeled huge amounts of vegetables and cooked 375 kg of rice for every meal. A special wood burning water boiler kept 600 litres of scalding hot water ready 24 hours a day for drinking, making tea, and cleaning.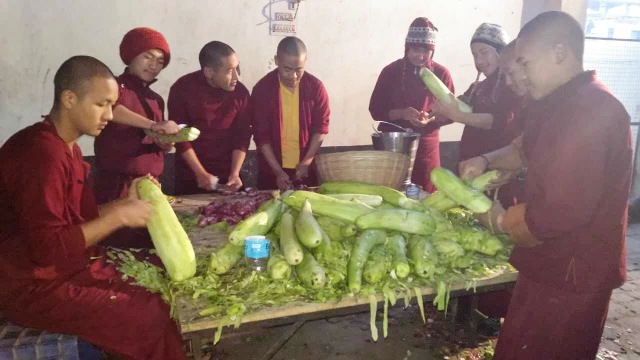 Lamas presided over prayers at the great stupa twice a day, in the morning and afternoon. Hundreds of monks sat before a backdrop of a huge airbrushed Shakyamuni Thangka with bowls overflowing with marigold petals. Others were led in prayers, seated under the main Bodhi tree before large pictures of the recently passed masters Chatral and Taklung Tsetrul Rinpoches.
Surrounding them were thousands of practitioners doing prostrations, offering mandalas and reciting prayers around every inch of the Maha Bodhi complex. Thousands more visitors circumambulated the stupa, paid homage at the famous Buddha shrine, and vied for sitting places and falling leaves under the Bodhi tree. With the lovely flower and water offerings from the monlam everywhere one looked, there was little difficulty visualizing the Buddha, who after attaining enlightenment nearly 3,000 years ago, taught thousands of disciples in countless languages, at countless levels of understanding. In a babble of mantras and loudspeaker chanting, under the massive Bodhi trees of refuge, so many voices and activities were offered for peace, happiness, and the freedom from suffering for all beings everywhere.
Losar and the Annual Drupchens in Nepal
---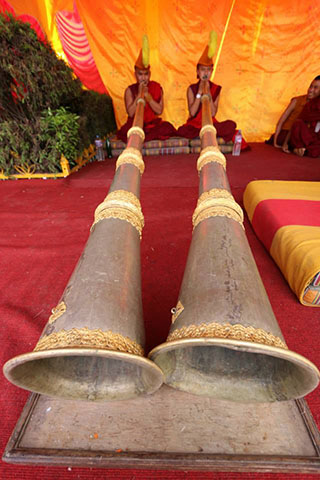 In the "Miracles Month" after Tibetan New Year, Shechen traditionally conducts drupchen ceremonies to purify obstacles and invoke immense blessings, harmony and auspiciousness for the year ahead. This year, the usual celebrations for Tibetan New Year (Losar) on February 9th will not be observed, to pay respect to the many lives lost and destroyed by the earthquakes, as well as the recent passing of the Supreme Head of the Nyingmapa, Taklung Tsetrul Rinpoche, and the great Dzogchen master Chatral Sangye Dorje Rinpoche.
Due to the ongoing restoration work of the main temple, badly damaged by the earthquakes, the drupchen ceremonies will be performed in the temporary temple in the old dining hall, with a tent next to this for our guests. We extend our sincere apologies for any inconvenience this may cause.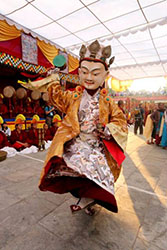 The drupchens always conclude with the Lama Sangdu three-day ceremony, culminating with the famed Tsechu Cham (monastic dance). The dance is a spiritual and artistic celebration honoring the eight manifestations of Padmasambhava. Dating back to the ninth century, when Guru Padmasambhava introduced Buddhism to Tibet, the dances have been practiced and advanced from the visionary experiences of great masters.
Please click on this link to download the drupchen schedule.
Remembering Patricia O'Sullivan
---
Long-term friend of Shechen monastery, our dear Patricia O'Sullivan, passed away peacefully on January 1st surrounded by her loving family. She is fondly remembered and will be sadly missed. Patricia and her family moved to Nepal in 1984 to study with Tulku Urgyen Rinpoche at Ka-Nying Shedrup Ling. They soon met HH Dilgo Khyentse Rinpoche and since then Patricia and her family were neighbors, good friends and supporters of Shechen and all our tulkus and monks.
As a personal friend of the O'Sullivan family for many years, Khenpo Gyurme Tsultrim* shares his memories of Patricia:
First of all, I would like to express my condolences, and those of all from Shechen Monastery, to Philippe, Raphael, and Samten who we all know well, as well as the rest of their family in France, where Patricia passed away.

Patricia is unforgettable. The most remarkable thing I can think about Patricia is that she was the most dependable person we knew. If we needed something done, and done now, Patricia was the one we'd call. Without hesitation she immediately set to work and took care of every aspect of the job at hand. She could always be relied on under any circumstance. Countless lamas and their monks repeatedly called on Patricia for help in getting papers and all necessary in order for their visas. She was enormously generous with time, money and effort. She particularly shone publically during the annual Great Tsechu, connecting with VIPs– the whole diplomatic community, distributing the invitations, seating guests. She also made the most beautiful big flower arrangements for Losar and the drupchens.

All of our tulkus and so many young monks remember Patricia's interventions when health was a problem. Doctors, lab work, hospital, dentists; she looked after so much, escorting them, making sure they took their medicines, encouraging better diets, and so on.

Personally, my close association with the family began around 1996 when we began working with their company, Skylight, on various projects, particularly on the windows of all the new buildings– first the Tsering Art School, then other buildings as the monastery grew. Since Samten and Raphael were small boys, I was often lucky to visit and enjoy O'Sullivan hospitality. Always open house, I could drop by and stay for a meal.

The last time we really sat and enjoyed a breakfast together was December 26, 2013. We stayed in touch over the ensuing months, but Patricia was very quiet about her health, and I think time and energy were concentrated on staying strong. Late in December in Chengdu, I had a very vivid dream of a strong, healthy, smiling Patricia. She left us soon after on January 1st.

Patricia will always be missed at Shechen Monastery, never forgotten by any of us. We are grateful for her presence in the life of our monastery, as well as in all our lives personally.
*Khenpo Gyurme Tsultrim was the acting abbot of Shechen Monastery in Nepal from 1996 until 2009, when he moved to Tibet to oversee the renovations to Shechen's temple.
Looking Forward
---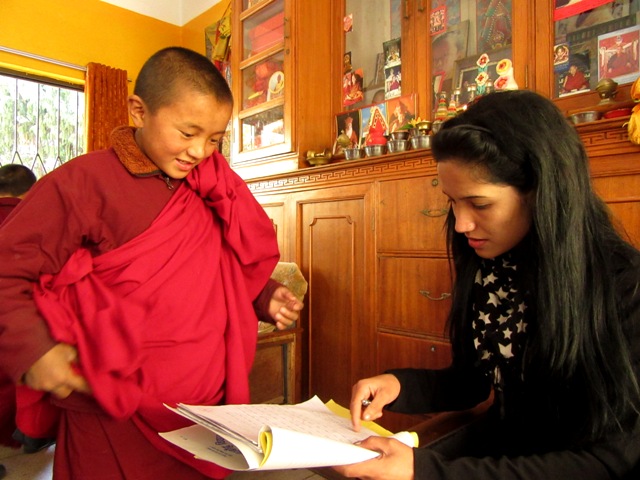 We are very grateful to all of you for reaching out so generously in 2015 to the monastery, the monks and the nuns. This outpouring from so many friends, stretched across over 17 countries, enables us to move forward with our earthquake restoration work and improve our quality of education and care.
The resilience and courage of our monks in the face of the major disruptions and challenges caused by the earthquakes and the fuel embargo has been an inspiration. They continued their studies, kept their responsibilities, and conducted ceremonies without missing a step. Soon, the busy period of the Tibetan New Year will begin. Despite makeshift conditions, its sacred dances and ceremonies will be as carefully presented as they have been for over a hundred years in Tibet.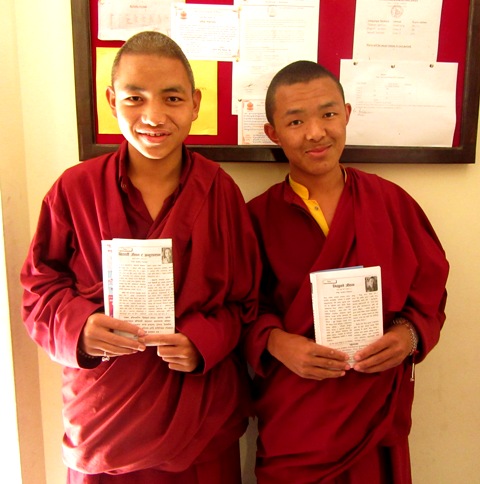 Our young monks are the future of the monastery. We are making every effort to prepare them with the skills needed to help Yangsi Rinpoche and Rabjam Rinpoche actualize their vision for the monastery. They were excited to study for their winter exams; some even had the stories they wrote published in a local magazine.
The monastery compound is crowded and short of space. We found the funds to build an overhang in the hostel's courtyard, to shelter the children from the rain when they eat and play. In the spring, thanks to the support of Ed Antoine and Altruistic Odyssey, we will have a fully appointed computer room for the school.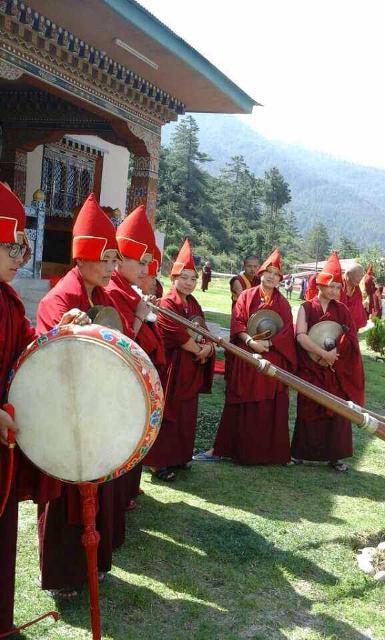 Shechen nuns in Bhutan are thriving. They are active in the community and progressing in their studies and retreats. We hope to have more college graduates this spring. One of their goals for 2016 is to build a hostel in the beautiful valley of Phobjikha and we hope you will help us to achieve it. More information will follow.
Our teachers' vision, guidance, and support creates the umbrella under which all of this can take place. We are very grateful to them. On behalf of all of us at Shechen, we wish you a fulfilling 2016 and a joyful Year of the Monkey.
Vivian Kurz
Director, Dilgo Khyentse Fellowship
Other Links
---
For continuing news please regularly visit our website where you can sponsor a monk or nun, donate to one of our projects, request prayers and find new information and photos. Current photos and news can also be found on our Facebook page.