#10 – February 2015 Newsletter
In this edition:
Teachers' Winter Activities
HH Dalai Lama Blesses Shechen's Stupa at Sankassa
2015's Winter and Spring Calendar
Annual Drupchens and Guru Rinpoche Lama Dance
News from Shechen's English Program
End of Year Exams
News from Shechen Ogyan Chodzong nunnery in Bhutan
Other Links
Teachers' Winter Activities
---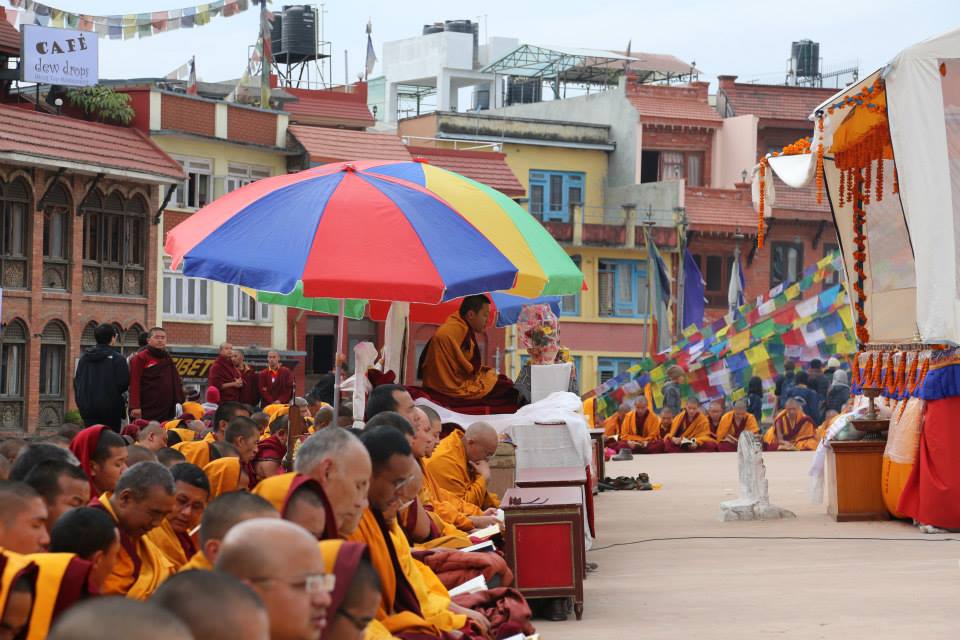 Shechen Rabjam Rinpoche is continuing his long retreat in Bhutan that he started in 2013.
Khyentse Yangsi Rinpoche spent most of November in Bhutan. First he attended a Vajrakilaya drupchen in Bumtang where he bestowed the Chime Phagmai Nyingtik empowerment to 10,000 people. He then visited Dzongdraka Gonpa in Paro. Later, Rinpoche and Kathog Situ Rinpoche received an audience with His Majesty the King of Bhutan, Jigme Khesar Namgyal Wangchuk.
Rinpoche then travelled to Bodhgaya, India to teach at the fifth annual Shechen seminar, which concluded with a pilgrimage to Gurka Riwojakang by Rinpoche and the seminar students. While in Bodhgaya, Rinpoche also attended the opening ceremony of an international Dharma Conference and participated in a joyful celebration of Rabjam Rinpoche's birthday in the courtyard of Shechen's temple on December 25th. Rinpoche composed this poem for the occasion: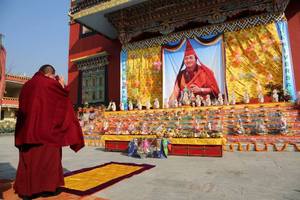 The joy of our life, the sunrise of our time, may you always be the greatest of all,
And may I be reborn again and again to be under your guidance.
Our father, our Guru, Kyabje Rabjam Rinpoche the Diamond in our heart;
Humbly wishing you a happy birthday and long life!
Rinpoche returned to Nepal to attend the sixth annual Nepal Nyingma Monlam, which concluded on January 4th. It was attended by many eminent Rinpoches and Khenpos, including Namkha Drime, Tengpoche Rinpoche, Selu Tulku and Khenpo Sangye Rangjung, as well as young tulkus, monks and nuns, yogis and lay practitioners. Rinpoche also bestowed a long life empowerment to Gurung Society in Shechen Nepal, where he will also be for the annual drupchens and new year's celebrations.
HH Dalai Lama Blesses Shechen's Stupa at Sankassa
---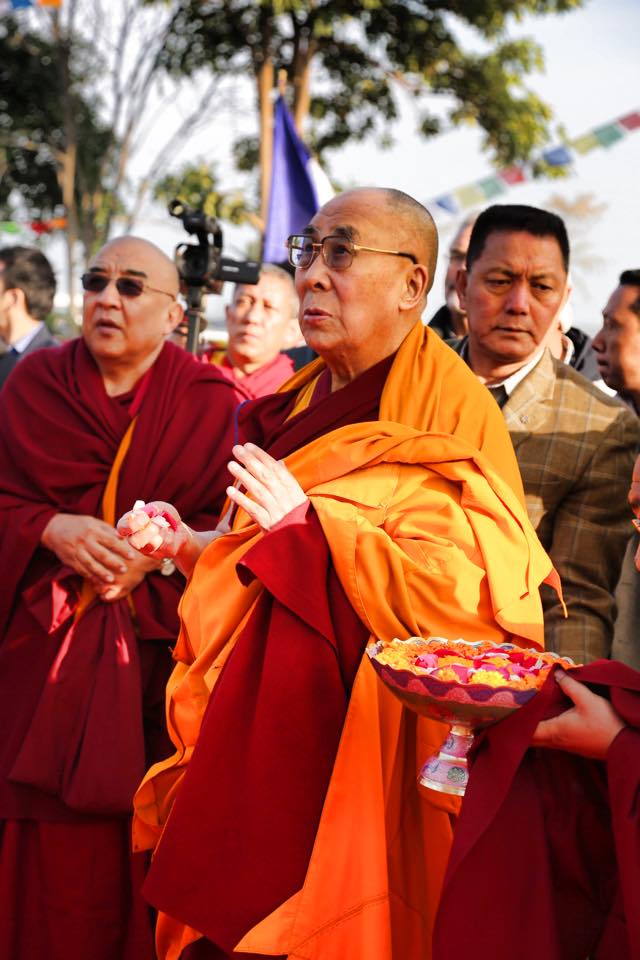 Dilgo Khyentse Yangsi Rinpoche, Ven. Jangling Tulku Rinpoche and monks from Shechen Bodhgaya visited Sankassa at the end of January where they attended ceremonies bestowed by His Holiness the Dalai Lama and received the great honor of His Holiness blessing Shechen's stupa. Sankassa, one of the eight main pilgrimage sites of Shakyamuni Buddha, is the sacred place where the Buddha descended back to earth after preaching the Abhidharma to his mother in Tushita Heaven.
This stupa is part of Shechen Rabjam Rinpoche's effort to fulfill the wishes of the previous Kyabje Dilgo Khyentse Rinpoche. Rinpoche raised funds to build commemorative stupas at each of the eight main pilgrimage sites of Shakyamuni Buddha. This project was completed in 2010, the auspicious year that marked the centenary celebrations of HH Dilgo Khyentse Rinpoche's birth in 1910.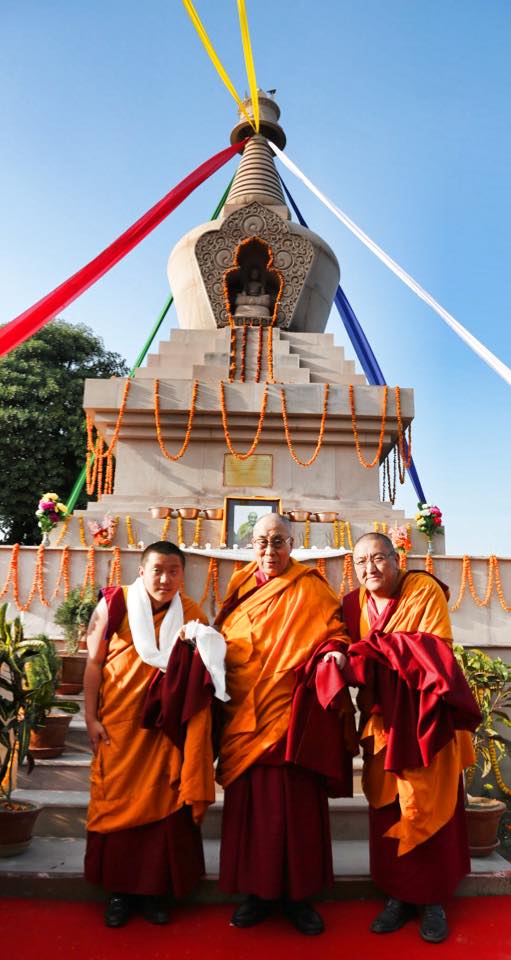 These Eight Great Places include the four sites that, in the Mahaparinibbana Sutta (Sutra on the Great Final Deliverance) Gautama Buddha identified as most worthy of pilgrimage for his followers indicating that they will produce a feeling of spiritual urgency: Lumbini, Buddha's birthplace; Bodh Gaya, the place of his enlightenment; Sarnath, where he delivered his first teaching; and Kushinagar where he died.
Later, four other sites were included because of the miracles that Buddha performed: Sankassa, discussed above; Sravasti, the Place of the Twin Miracle, where Buddha proved his supernatural abilities; Rajgir where he subdued the angry elephant Nalagiri through friendliness; and Vaishali where Buddha received an offering of honey from a monkey.
2015's Winter and Spring Calendar
Please click on this link to download a PDF of the annual drupchen ceremonies and other events scheduled for this winter/spring in Bodhgaya and Nepal.
Annual Drupchens and Guru Rinpoche Lama Dance
---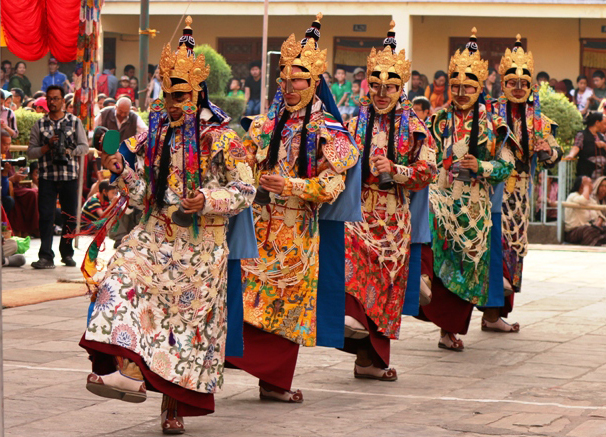 Every year in the "Miracles Month" after Tibetan New Year, Shechen welcomes the new year with ceremonies to purify obstacles and invoke blessings, harmony and auspiciousness. The drupchen ceremony is presided over by Khyentse Yangsi Rinpoche with Adzom Gyalse Tulku and the 400 tulkus and monks of Shechen.
After rebuilding Shechen Monastery in Nepal during the 1980's (after the destruction of the original monastery in Tibet), it was Dilgo Khyentse Rinpoche's vision to perform the Tsokchen Dupa sadhana as a drupchen (nine-day ceremony) along with four other ka'ma practices. The original sadhanas were compiled by Terdag Lingpa Rigzin Gyumed Dorje from Mindroling. Later the drupchen sadhana framework for the Tsokchen Dupa was composed by Dilgo Khyentse Rinpoche. Prior to this, ka'ma practices were not traditionally performed as drupchen. It was out of Rinpoche's strong altruistic wish to preserve and continue these sacred traditions in a powerful way that he wished to introduce these practices in the annual drupchen ceremonies.
Since then, the monastery practices the Tsokchen Dupa drupchen every year. However, a lack of space for the four other ka'ma ceremonies limited the full expression of Rinpoche's vision. In the auspicious year of 2010, Shechen Rabjam Rinpoche initiated the four other ka'ma ceremonies to be practiced in the smaller temples as a seven-day "drupcho," at the same time as the Tsokchen Dupa Drupchen is performed in the main temple, finally fulfilling his guru's vision.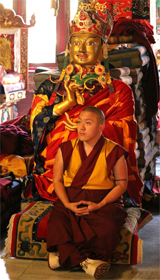 Shechen also simultaneously performs five terma practice drupchens, with the Minling Dorsem (Vajrasattva) Drupchen being performed in the main temple and four other terma drupcho performed in the smaller temples: the Shinje (Mindroling), Kabgye Deshe Dupa, Vajrakilaya, and Pema Tse Nyingthik.
The Lama Sangdu three-day ceremony concludes on March 29 with the annual Tsechu Cham (monastic dances). Dating back to the 9th century, when Guru Padmasambhava introduced Buddhism to Tibet, great masters have practiced and advanced the dances through the ages with their visionary experiences. The dance festival, or tsechu, is known as "The Festival of the 1Oth Day" and is a spiritual and artistic celebration honoring the eight manifestations of Padmasambhava, particularly his coming to Tibet to establish Buddhism.
The public is very welcome to attend the drupchens and monastic dances. Please note that the Tsokchen Dupa and Minling Dorsem drupchens require attendance on the first day, the closing of the boundary, to be able to attend the subsequent days.
News from Shechen's English Program
---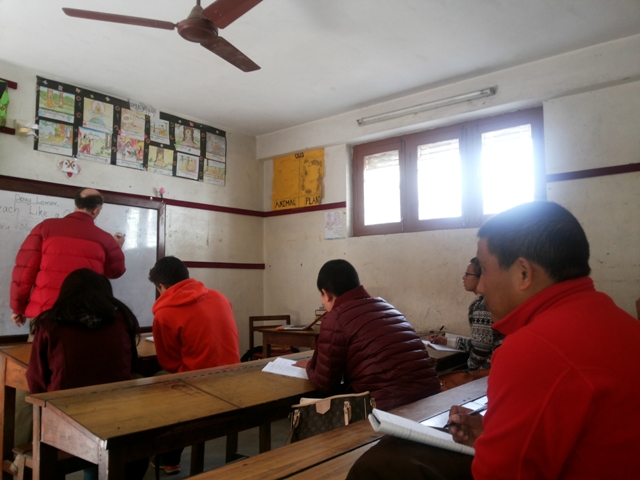 In 2014 Khyentse Yangsi Rinpoche's sister, Miss Kelsang Bhuti (Kebula), kindly initiated a formal English language program for the graduate teachers (khenpos and lopons) at Nepal's main monastery. Lopon Ngawang Tenzin acts as the ESL program facilitator, with Miss Kelsang Bhuti acting as overall coordinator. A grant bestowed through Dilgo Khyentse Fellowship helped establish a permanent classroom in the shedra, which, due to the generosity of donors, now has a computer, speakers and furniture.
This January four of Shechen's ESL staff members attended a course in professional development and teacher training: Khenpo Sangay Phuntsok and Lopon Ngawang Tenzin from the monastic body, along with Shechen's ESL teachers Sonam Tashi and Tsering Ngudrup, who teach elementary students and the khenpos and lopons, respectively.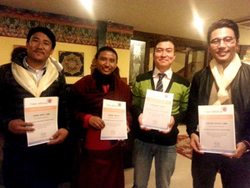 The eight days focused on motivational training and psychology, and was run by the Hope Alliance, a non-profit organization from Australia, in partnership with Trangu Rinpoche's School for Himalayan Children. This was the second annual teacher training hosted at Thrangu Rinpoche's school, Shree Mangal Dvip (SMD) Boarding School. More than 50 teachers from schools, nunneries and monasteries, along with SMD students attended the training.
Lopon Ngawang Tenzin reported that participants learnt positive life skills, leadership and management, how to "teach like a champion," as well as health and hygiene. He said they all found the course extremely interesting and valuable. The certification ceremony was a joyful evening for all involved.
Seeking two qualified ESL volunteer teachers between July-December 2015
We are currently seeking an experienced volunteer to teach English to the intermediate and advanced classes, from July until September and October to December. Please contact Lopon Ngawang Tenzin with your expression of interest at: shechenesl@gmail.com
End of Year Exams
---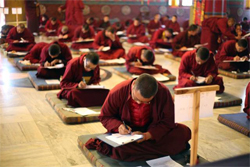 At the end of each year, the various departments of the monastery all enter their end of year exams: the elementary school consists of six year's study, the art school six years with three years post-graduate course, Ritual College (drasang) two to six years and the Shechen Institute's Philosophical School (shedra) a total of nine years. After graduating from the drasang or shedra the monks may apply to do three year retreat.
In January the Shechen Institute monks sat their end of year exams in the main temple. They are provided with summaries and notes for inspiration just prior to their exams, which were written by some of the Khenpos and Lopons from previous years. Khyentse Yangsi Rinpoche visited the exam room, giving extra inspiration to the monks. There was an air of intense concentration as they were tested on the knowledge accrued in their philosophical subjects over the past year.
News from Shechen Ogyan Chodzong nunnery in Bhutan
---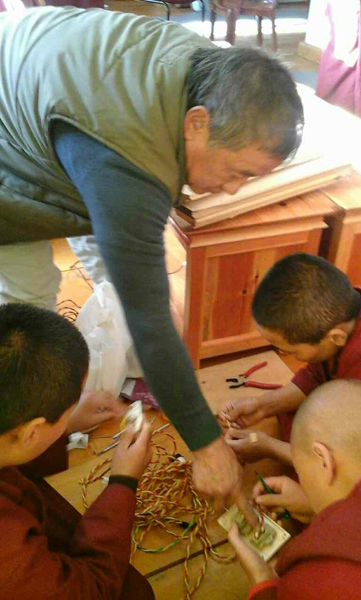 The nuns of Shechen Ogyen Chodzong received hands-on training in January, through the kind voluntary service of Tshewang Thinley, a retired Bhutanese doctor who has additional knowledge in electricity and plumbing.
He trained nuns on changing electric plugs and bulbs, as well as how to connect wires safely with the proper tools. In addition, due to problems that the nunnery experienced with blocked pipes, he taught basic plumbing, including changing bibcocks. He also continued the nuns' First Aid training by showing them how to clean wounds, apply medicines and bandages, and handle fractures.
In mid-February the nunnery will perform the annual Vajrakilaya Drupchen according to the terma of Dilgo Khyentse Rinpoche.

Other Links
---
For continuing news please regularly visit our website where you can sponsor a monk or nun, donate to one of our projects, request prayers and find new information and photos. Current photos and news can also be found on our Facebook page.