August 5th, 2017 | Published in NEWS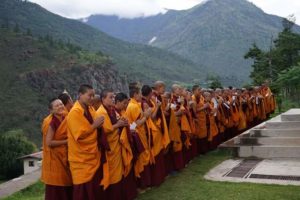 The annual Summer Rains Retreat (Yarne) at Shechen runs from August 7th (full moon) to September 20th (new moon) this year. The practice stems from the Indian custom established by the Buddha in the Vinaya Sutra.  At that time the retreat was three months long and done during the summer monsoon.
This retreat is observed by the monks of Shechen Monastery, Nepal and by the nuns in Shechen Orgyen Chodzong Nunnery in Bhutan. In Nepal the prayers will be said in the dining room as the main temple is being painted and the restoration completed.
Contributions for the Yarna can be made here for food and offerings. (Note: Some monks fast, others do not).
If you are donating by PayPal, please note under "purpose" or "notes" that your donation is for the Yarne. If you'd like to allocate your donation to any particular offerings, please make note of that as well.  Thank you.