August 4th, 2017 | Published in NEWS
Meet Irina Kotik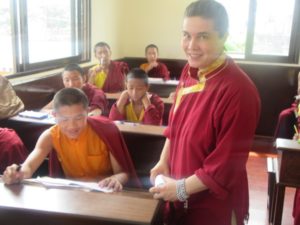 "My name Irina (Era) Kotik and I was born in the USSR in 1974.I earned my masters in computer science and business administration and had a successful Internet business until I retired in 2005 to totally dedicate my life to the study and practice of Dharma.
In April 2017 I came to Nepal to attend the transmission of Dilgo Khyentse Rinpoche's terma lineage in Shechen, and enrolled in the Ranjung Yeshe Institute to further study Tibetan language.
In my free time, I work at the Shechen School as a volunteer training the young monks in their new computer laboratory, teaching them English, and helping them in their studies of math, and science.
I find the school to be beautiful and well organized as it makes a great effort to integrate a modern education with a spiritual one. With the young monks and their teachers I can exchange valuable lessons of patience, benevolence, a sincere interest in life and studies, perseverance, and vitality. "