April 24th, 2017 | Published in NEWS
April 25th marks the second anniversary of the massive earthquake that hit Nepal. It is a day that will remain emblazoned in the minds of all those in Nepal on that fateful day. Much of the affected areas still needs to be rebuilt.
At Shechen Monastery, we've made much progress in the restoration of the main temple, adjoining temples, and teachers' residence, thanks to the generosity and support of all of you.
This year, for the first time since the earthquake, we were able to perform our annual ceremonies in the main temple. In early April, Shechen Rabjam Rinpoche bestowed the complete cycle of His Holiness Dilgo Khyentse Rinpoche's treasure teachings to over four thousand people.
We've come a long way in the seismic upgrade of the main buildings and have completed much of the electrical, plumbing, and drainage work. The rebuilding of Rabjam Rinpoche's residence is underway and the senior residence at Namo Buddha is almost completed.
Yet, we still have much to do, as you can see from the photos. We need to install new glass inside the temple to protect the 3 large statues, complete electrical work, redo the front steps, install the small prayer wheels, repaint the outside of the temple, renovate the Kudung room and Yangsi Rinpoche's residence, replace the ornaments inside the temple, and more.
Under the direction of Tsering Art School's master artist, Konchok Lhadrepa, repainting the murals in the temple will begin in the autumn and take 2 years to complete.
Monasteries are a spiritual and community gathering place for the Himalayan peoples. Under the guidance of our teachers, Shechen Monastery not only educates and trains monks, but provides the ground that allows the precious traditions of Tibetan Buddhism to continue, and in particular the tradition of His Holiness Dilgo Khyentse Rinpoche.
Please continue to support our restoration effort. We need your help.
BEFORE: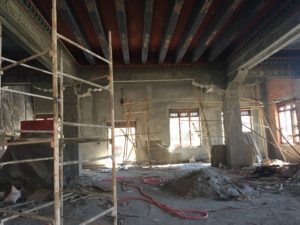 AFTER: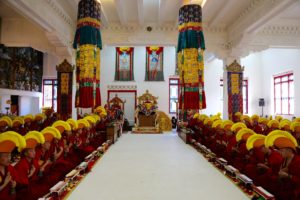 AFTER: